Anonymous Just Dealt a Major Blow to the Islamic State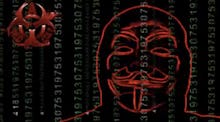 Anonymous, the hacker collective, is stepping up its efforts to wipe the Islamic State militant group off the Internet.
In a haunting video posted to YouTube, the group is claiming to have deleted Twitter, Facebook and email addresses with suspected links to Islamic State. If true, it could be a punishing blow to the terrorist organization, which relies on social media to recruit members and spread its slickly produced propaganda and snuff films. 
"We will hunt you, take down your sites, accounts, emails, and expose you," a person's voice warns in the two-minute clip baring the collective's signature Guy Fawkes mask. "From now on, there [will be] no safe place for you online – you will be treated like a virus, and we are the cure. We own the Internet now." 
The operation, called #OpIsis, is being conducted by a group of people from all backgrounds ("Muslims, Christians, Jews," the person says) who are "united as one, divided by zero." 
A list posted to Pastebin showed roughly 100 Twitter profiles and a dozen Facebook accounts that Anonymous claims to have deleted, according to Hacker News. Despite these efforts, it's "not yet clear" whether the hacker group's efforts have had a detrimental effect on the Islamic State group's ability to utilize social media, reports the Guardian. 
"While Anonymous says there will be 'more to come,' [Islamic State] members continue to create accounts as fast as they are taken down," the newspaper notes. 
#OpIsis follows in the same vein as #OpCharlieHebdo, a cyber attack that Anonymous plotted against Islamic State-associated social media accounts following the deadly attacks in Paris last month. Similar to this attack, that was aimed at shuttering accounts with suspected links to al-Qaida and Islamic State, but it didn't prove to be too obstructive since the group still operates heavily online. 
h/t The Week UK