Apple Is Finally Adding the Racially Diverse Emojis You've Been Waiting For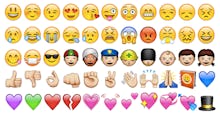 Emojis are finally one step closer to being as racially diverse as the people who use them.
Tucked away in the latest developer release of Apple's software OS X Yosemite (10.10.3 to be exact) is an option to customize an emoji with five skin tones so users aren't relegated to always using the white person version, according to MacRumors.
"The skin tone modifier proposal would apply to certain skin-colored emoji, allowing users to select from a range of skin tones to best represent the message they wish to send via emoji," the blog reports.
The screenshot below shows that the face emojis might soon have an option of changing races once selected. Since this is still in the early planning stage, the format might change but the placeholders indicate that more colors are coming. 
What now? Although it's a step in the right direction to make emojis more diverse, there's still a long way to go before these new icons appear on our phones. 
Ever since pop singer Miley Cyrus launched an emoji equality campaign in 2012 — yes, you read that right — the Internet has been pushing for a keyboard filled with more racially diverse characters since the world isn't solely filled with blond white boys. 
The movement gained momentum in November 2014, when Apple pledged to include more diverse emojis for smartphone users. It's now working with the Unicode Consortium, the group that standardizes emojis, to create several skin tones based on the Fitzpatrick scale. 
The developer's screenshot falls in line with Unicode's upcoming 8.0 release that requires a color swatch to appear next to a selected emoji so it will change skin colors. 
"In addition, they are recommending that all Unicode members change the coloring of their default 'human' emoji to have a more cartoonish, almost Simpsons-like skin tone, instead of defaulting to Caucasian, as most emoji have previously done," writes Fast Company. 
Unicode 8.0 needs to be finalized before Apple releases the new emojis, which could come later this year. 
h/t Fast Company