Islamic State Group Sympathizers Hacked Into the 'Newsweek' Twitter Account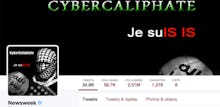 Newsweek is the latest high-profile Twitter account to fall victim to hackers supporting the Islamic State group.
At around 10:45 a.m. Eastern time, the magazine's Twitter account was briefly compromised by as-yet unidentified hackers claiming to be the "CyberCaliphate" and posted threatening messages aimed at first lady Michelle Obama and tweeted out pictures of supposedly confidential government documents.
It began with this threatening message:
The Twitter account's banner was also changed to include the phrase "Je suIS IS," a play on "Je Suis Charlie," the phrase that served as a rallying cry after the attacks on the French satirical magazine Charlie Hebdo last month. 
In an another tweet, the hackers announced the beginning of "Bloody Valentine's Day" as a response to U.S.-led attacks on the Islamic State group in Syria, Iraq and Afghanistan. 
"The Islamic State is already here," it warned. "We know everything about you and your relatives and we're closer than you can even imagine."
The timeline was then populated with the following tweets, purporting to be top-secret military documents.
Politico notes the images come from the Defense Cyber Investigations Training Academy, a unit of the Department of Defense that conducts "incident response training to DoD elements that protect DoD information systems from unauthorized use, and criminal, fraudulent and foreign intelligence activities."
The tweets were deleted about 15 minutes later, and the CyberCaliphate avatar was quickly changed into an orange egg. Shortly after the attack, Newsweek's managing editor confirmed the hack:
Tuesday's attack follows in the footsteps of the U.S. Central Command, who had its Twitter and YouTube accounts compromised a month ago. It's believed the Syrian Electronic Army was behind that attack. 
It also comes as the same day as the White House is announcing the Cyber Threat Intelligence Center, to "buttress government and corporate defenses against the rising threat of sophisticated hackers," reports the Wall Street Journal. 
Mic has reached out to Newsweek for comment.