After 16 Years, Jon Stewart Is Leaving 'The Daily Show'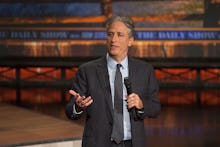 It's been a brilliant 16 years.
According to the A.V. Club, and confirmed by Comedy Central, Jon Stewart, the brilliantly irreverent humorist and host of The Daily Show, has announced that he is leaving late night's greatest news desk.
Stewart apparently told the audience at the taping of Tuesday's episode that he's retiring from The Daily Show, the satirical news program that has won 18 Primetime Emmy Awards and made Stewart the most trusted name in news for millennials. Although there's no word of the timing of Stewart's departure, he has jokingly (or not — it's hard to tell with Stewart) talked about leaving The Daily Show behind previously. 
In a conversation with New York magazine in October, Stewart made it clear that he's probably not cut out to leave for more "serious" newscasting. "I am a part of an establishment but in a slightly different element. We'll do certain bits that would be disqualifying in terms of that person ever talking to us again, and I'll say to other people on the staff, 'You know, what's nice about this show is that when I leave, I'll leave with no friends but you people.' I think I would be too reactionary to execute something like Meet the Press properly. I mean reactionary in the sense of, 'What's wrong with you!' Nobody wants to be yelled at."
His dream job, according to the interview? "I want to be the first male host of The View."
Maybe he saw news of Rosie O'Donnell's departure and made the move? While more is sure to come, Stewart's departure from The Daily Show is sure to inspire mourning of epic proportions from his millions of fans, only 43% of whom watch the show purely for entertainment.
We'll miss you, Jon.