Watch Jon Stewart Break the News of His Departure from the 'Daily Show' After 16 Years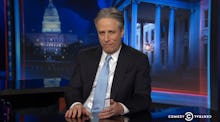 "This show doesn't deserve an even slightly restless host, and neither do you."
On Tuesday's Daily Show, host Jon Stewart announced he's quitting the iconic program after 16 years of pulverizing politicians, mocking the media and delivering the news in a way only he can. 
But before he delivered that message, the show was like any other. His first segment mocked Fox News' lashing of President Barack Obama for not acting like a leader and later interviewed the president's top adviser, David Axelrod. 
The show's Twitter account warned what was to come:
They were right. 
Fighting back tears in front of a stunned studio audience, Stewart thanked his bosses at Comedy Central for the opportunity to "pilot this wonderful franchise" after taking it over from Craig Kilborn in 1999. 
"Seventeen years is the longest I have, in my life, held a job by 16 years and five months," he said to applause. "Thank you."
Although Stewart's contract ends in September, he said he might leave as early as July or as late as December. He said he doesn't have a plan for what he'll do after that, other than spending time with family.
"I'm going to have dinner — on a school night — with my family, who I have heard, from multiple sources, are lovely people," he said with a laugh. 
"I don't think I'm gonna miss being on television every day, but I'm going to miss coming here every day. I love them and respect them so much," he said, appearing visibly emotional. 
"It's been an absolute privilege. The home of my professional life. And I thank you for watching it, or hate-watching it — whatever reason you were tuning in for. You get into this business with the idea that you might have a point of view or have something to express. And to receive feedback for that is the greatest thing you can ask for." 
The show's moment of zen wasn't a dramatic montage, but old footage of a monkey washing a cat to ease the shock. At least we'll have a few more months with him.