#MuslimLivesMatter Is Standing Up to Islamophobia After the Chapel Hill Shooting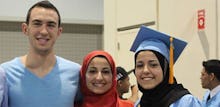 Twitter is hearing the message loud and clear: #MuslimLivesMatter.
The hashtag is taking over social media following the shooting deaths of three Muslim students Tuesday near the University of North Carolina at Chapel Hill. 
In a similar vein as #BlackLivesMatter, #MuslimLivesMatter highlights the young lives lost while serving as a rallying call for the lack of mainstream media coverage. According to social media monitoring tracker Topsy, #MuslimLivesMatter racked up 22,000 tweets within the past day. 
Many of the tweets ridiculed the media:
Other users felt alienated about the double standard of the word "terrorist."
In the midst of all this, it's important to remember the victims who lost their lives too soon. Yusor Abu-Salha, 21, had begun UNC's dentistry program; her husband, 23-year-old Deah Barakat, dedicated his life to volunteering and was working in law. They were recently married.