The Trailer for Judd Apatow's New Comedy Is Actually Hilarious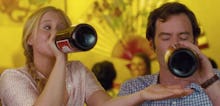 Trainwreck actually looks like anything but one.
The trailer for the highly anticipated comedy produced by Judd Apatow and written by the magnificent Amy Schumer has us already hyped for the summer movie season. Judging by this short clip, Schumer shines as a sardonic commitment-phobe New Yorker that finally finds love (in the form of the affable Bill Hader). 
Trainwreck is loaded with strange guest stars including Tilda Swinton as Schumer's boss, LeBron James as Hader's best bud, Colin Quinn, Vanessa Bayer and wrestler Jon Cena. The bizarre concoction appears to work, with the highlight being James proving that he can actually deliver a funny joke about Downton Abbey. 
Apatow has kept himself producing the past few years, with HBO comedy Girls, the disaster known as Anchorman 2: The Legend Continues and the sweet Begin Again. Yet, this doesn't look like the snoozefest that This Is 40 was, so that's good!
Trainwreck is out July 17.