Watch Jon Stewart Tear Apart Alabama and Kansas' Homophobic Laws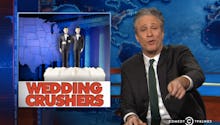 The show must go on. 
On Wednesday's Daily Show, host Jon Stewart began the program joking about his departure ("Lower your expectations," he said), then reverted to his usual ways of punishing politicians for their stupid statements. 
His first target? Kansas Gov. Sam Brownback. The Republican recently leader made it legal for the state to "harass, fire or deny positions to individuals on the basis of their sexual orientation or gender identity," Mic previously reported. 
"It being Kansas, I guess Brownback clicked his heels three times and said there is no place like homophobia," said Stewart. 
Stewart then pointed toward how Rick Santorum's name got, let's say, "redefined" on the Internet after his controversial gay marriage remarks in 2003, and asked why the same hasn't happened to Brownback. "You are telling me we can't do better with the almost already there name Brownback?" said Stewart. "Come on, Internet!"
He then shifted his focus to Alabama. The state recently started granting gay marriage licenses, even though the state Supreme Court asked for a stay. Alabama Chief Justice Ray Moore told probate judges they don't have to grant marriages, despite a federal court's January ruling negating the state's gay marriage ban.
"So, an Alabama official circumventing a federal ruling in order to restrict the civil rights of a minority population," Stewart said. "I guess he was thinking, 'Hey, that Selma movie was a hit!"
Stewart referred to the recently passed Alabama amendment, aka the "Sharia law," that bars so-called foreign laws from influencing the state's legal decisions, since some state officials say the gay marriage laws don't agree with their "deeply held Christian beliefs."
"Where was the Bible written again?" Stewart said. "Last time I checked, ancient Galilee is not one of the 50 states or even one of them terroritories that nobody knows about — which makes it a foreign law." 
He added, "You have fucked yourselves with your own statute. Or as I hope it becomes to be known — Brownbacking."