Watch the First Behind-the-Scenes Look at the Next James Bond Movie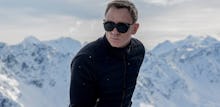 Bond is back — in black.
James Bond returns for his 24th film and is looking as fresh as ever. Fans were given a sneak peek with just-released, behind-the-scenes footage from the set of Spectre, which once again stars Daniel Craig as the world's poshest spy. 
The two-minute clip is filmed in the snowy Austrian mountains and proves that the 46-year-old Craig hasn't lost the ability to run quickly and beat the crap out of people. Coupled with the blizzard-like conditions and chilly temperatures, the stunning scenery presents a challenge for the film crew. But this is another jaw-dropping Bond film, after all. 
Co-stars Léa Seydoux (Madeleine Swann) and Dave Bautista (Mr. Hinx) briefly describe how excited they are to star in the upcoming film. A producer hints that one of the film's many chase scenes takes place in the secluded mountain range.
Sadly, Craig doesn't interview (although he does preview his sleek, all-black outfit), but this should be enough to hold us over until Spectre's Nov. 6 release.
h/t Gizmodo