Facebook Is Finally Letting You Control What Happens to Your Account When You Die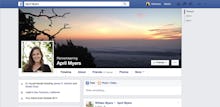 Facebook is making it easier for you to log off forever.
Starting Thursday, the social network is letting users appoint a friend, otherwise known as a "legacy contact," to manage their account after they die. Those who are freaked out by the thought of someone controlling their social media presence post-mortem can also choose to have their accounts permanently deleted after death. 
Both options are now in the Security tab in the Settings menu (look for the lock icon on the top right).
How exactly does it work? Rest assured: Setting a Legacy Contact doesn't mean your friend will be able to impersonate the ghostly version of yourself. They can't post messages on your behalf or creep into the inbox.
But they can accept friend requests, change your profile photo and pin announcements on your timeline about the sad news. And it only works when Facebook gets official notice of the death, usually through a news article or obituary. 
Facebook will also add a "Remembering" label on top of the user's name, as seen below.
The new option takes its memorialization option a step further, Mashable notes. Facebook currently has a system that archives profiles after the person dies so that their profiles don't appear on friends' News Feeds or in ads. The Legacy Contact option now lets users control the archive page so that details following the person's death, say funeral information, can be better communicated. 
Why is this happening? The improvements come at the request of users who want better control of their digital fingerprint after they die. 
USA Today cited a recent Zogby Poll showing that 71% of adults would rather keep their accounts private after death unless they say otherwise. Another 43% said they want their entire history wiped unless they have consented to let someone else, of their choice, access it. 
Vanessa Callison-Burch, a Facebook product manager, told Slate that the features are based on user feedback. She cited an example of a mom telling Facebook that her deceased daughter's cousins couldn't view the Facebook page and post a tribute. 
"Family members will tell us 'I really want to communicate information about the memorial service with this person's friends.' The idea of a pinned post comes from there," Callison-Burch also told Mashable. "People typically don't think about this very much until they have an experience of loss."
The feature is currently only available to U.S. users, but will eventually roll out worldwide. 
h/t The Verge