Part of the $564 Million Powerball Went to Someone Who Actually Deserves It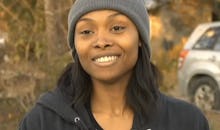 Marie Holmes truly won this jackpot.
The 26-year-old hard-luck North Carolina mother was holding down two jobs at McDonald's and Walmart, but was recently forced to quit them because she needed to take care of her four children, one of whom has cerebral palsy. 
Her fortunes changed, however, when she found out that she was one of the three people to buy the winning Powerball ticket, winning her a share of the record-breaking $564 million jackpot. According to NBC affiliate WECT-TV, Holmes is taking home roughly $188 million.
"I thought I was going to have a heart attack when I saw the ticket and checked it," Holmes told the station. Upon learning she's now a millionaire, she told her kids they don't have to struggle anymore. 
What's her big plans for her new millions? The first thing she does will be donating a portion of her fortune to the church. "I wouldn't have none of it if it wasn't for God," she told WECT. A college fund for her children and a new house are also on her list. 
It sounds like Holmes has a head on her shoulders, since winning the lottery isn't a toll-free pass to living life the easy way. There are countless horror stories of past winners have spent their money past the breaking point, ending up destitute, imprisoned or dead. A widely cited 1978 study, "Lottery winners and accident victims: Is happiness relative?" published in the Journal of Personality and Social Psychology, found that the levels of overall happiness spiked upon winning, but returned to normal levels within a few months, and that long-term happiness for winners wasn't significantly different from those who never won the lottery at all.
Holmes, however, claims the millions will have a positive impact on her life. "I'm ready for it," she told WECT. "I'm ready to embrace the change. I'm very grateful for what's about to happen for my family."