'SNL' Brought Back 'Celebrity Jeopardy' With Every Star Ever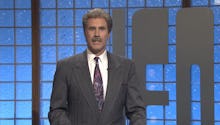 "Before we begin the Double Jeopardy round, I'd like to apologize to our Asian viewers — We should've known having Chinese history as a category would lead to highly offensive accents from our contestants." 
And with that, the 40th anniversary special of Saturday Night Live began. A very special round of Celebrity Jeopardy came first, featuring a cavalcade of "celebrities" stumbling their way through the easiest game show on late-night television. Will Ferrell returned with his flawless Alex Trebek impression and was forced to suffer through the stars' stupidity. 
Also reviving iconic impressions were Darrell Hammond as Sean Connery (you'll never read the words "Who Reads" the same again), Norm Macdonald channeling his inner Burt Reynolds and Kate McKinnon as just about the slimiest Justin Bieber in history (second only to the real one). 
The game kept it simple for the stars, with categories like "Letters That Begin With G" and "State Your Name." But when they slithered into a Video Daily Double question, the skit's punchiest moment began. Kenan Thompson, dressed as a cocktail-making Bill Cosby, appeared on the screen for just a moment before being cut off.
"Oh dear god, no, I'm very sorry — We filmed that in June!" a nervous Ferrell-slash-Trebeck exclaimed. 
A too-soon-but-too-late Bill Cosby joke? That should be enough to hold us over until the 50th anniversary special.