Snow-Buried Cities to Tourists: Forget It, Just Go to Florida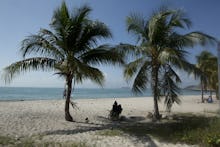 Ithaca, New York, has an unusual message for potential tourists: "Don't come here."
The upstate city known for Cornell University, gorges and the T-shirts capitalizing on them, is in the midst of a brutally chilly winter. So, the Ithaca-Tompkins County Convention and Visitors Bureau is waving the white flag. Where should tourists go instead? Balmy Key West, where Tuesday's high is a tropical 77 degrees Fahrenheit — a far cry from Ithaca's "high" of 22 degrees.
The tourism bureau made the declaration on their website, greeting visitors with a pop-up banner that reads, "Due to this ridiculously stupid winter, Ithaca invites you to visit the Florida Keys this week. Please come back when things thaw out. Really, it's for the birds here now."
The website slyly hides a real link to Visit Ithaca's homepage, for those still willing to trek to the tundra before it thaws this spring.
Why has Ithaca given up? Have you looked outside lately? The Northeast has been pounded with record-breaking cold temperatures and snowstorm after snowstorm since the beginning of February, with the city currently buried under 17 inches of snow. The campaign is a clever ploy to remind visitors that even though the frozen wasteland of upstate New York may not be a prime tourist destination at the moment, there is a charming city buried under all that snow.
"On behalf of 100 million Northeasterners, we're saying that we're done with cold and snow," bureau director Bruce Stoff told USA Today. "This is a way for us to stay engaged with our customers at a time when upstate New York isn't exactly top of mind."
It's working, according to one metric: The website garnered nearly 11,000 unique views Monday — around seven times the number the site usually gets on an average February day, per stats provided to USA Today. It's also unclear if that will convert into additional tourism revenue, which the city rakes in around $160 million a year. 
The idea was entirely Ithaca's. Harold Wheeler, director of the Florida Keys' tourism department, told the Miami Herald that the idea was an "unconventional marketing wisdom" and said he's never heard of a tourism department encouraging people not to visit. 
"I have never ever heard of a destination management office pointing their website's visitors to another portal," Wheeler said, according to the Miami Herald. "That said, our temperature in the Florida Keys right now is in the low 70s and we certainly appreciate Visit Ithaca highlighting that."
h/t USA Today