Watch Billy Eichner Pit Michelle Obama and Big Bird Against Each Other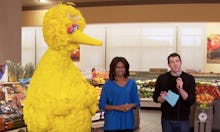 Billy Eichner doesn't lower his voice for anyone, not even first lady Michelle Obama.
In a video produced by Funny or Die, Eichner teams up with an unlikely couple (FLOTUS and "showbiz legend" Big Bird) to promote "Eat Brighter," a campaign fostered by Obama and Sesame Street with the goal of encouraging kids to load up on fruits and vegetables at mealtime.
"We're bribing kids to eat fruit!" screams Eichner, as Obama chimes in: "with Big Bird." 
Eichner brings in fan favorite Elena to play the pop culture-themed game "Ariana Grande or Eating a Carrot." Elena, after reminding Eichner that meeting the first lady and an 11-foot bird at the same time isn't good for her high blood pressure, competes with the pair as Eichner screams questions at them. Sample: "Gwyneth Paltrow makes a fantastic broccoli and arugula soup. Does that matter: yes or no?" (Answer: It does, because she has a website.)
Eichner's screaming aside, it's a great way to get kids to eat healthy. It's been three years since the first lady first combined forces with the U.S. Department of Agriculture to fix America's unhealthy, unappetizing school lunches. The Healthy Hunger-Free Kids Act called for school lunch options that contained less sodium, more healthful ingredients and a bigger selection of fruits and vegetables over processed sludge. "We have a right to expect the food [students] get at school is the same kind of food we want to serve at our own kitchen tables," Obama said at the time.
Combining sound health policy with enormous puppets and loudmouthed comedians should be enough to hold us over until Billy on the Street returns later this year (this time on a real network!), but it's going to be hard for him to land a bigger guest star than Obama.