24 Years After His Death, A Newly Discovered Dr. Seuss Book Is on Its Way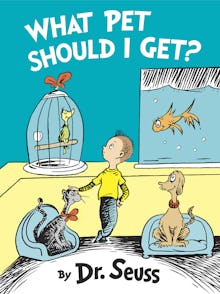 Good news for moms and dads who think Green Eggs and Ham is well past its sell-by date: The publisher of Dr. Seuss is releasing a new book by the iconic children's author. Random House Children's Books announced on Wednesday that it is slating a late July release of the story called What Pet Should I Get, based on a manuscript discovered in the writer's house in California. 
Before dying in 1991 at the age of 87, the acclaimed author, whose real name was Theodor "Ted" Seuss Geisel, wrote and illustrated 44 books. Nearly all of them became global best-sellers, inspiring several blockbuster movies, television shows and even a Broadway show. A recent article in the Wall Street Journal reports that "some 600 million" books from Dr. Suess have been sold in 17 languages across 95 countries. 
The "new" book was written sometime between 1958 and 1962 and features the brother and sister from his 1960 book One Fish, Two Fish, Red Fish, Blue Fish. His website, Seussville.com, released a picture of the cover, shown below.
According to the publisher, the book was discovered by his widow Audrey Geisel in their seaside La Jolla home in the fall of 2013. She was in the midst of remodeling when she discovered a box full of his manuscripts, including the drawings that became What Pet Should I Get. 
In a statement released by Geisel and obtained by USA Today, she called the discovery "undeniably special." The book's description on Suessville says that it focuses on the "classic childhood moment" of choosing the right pet. The takeaway is that it's sometimes hard to make a decision, but it's necessary. 
The excitement surrounding the latest release has translated into big sales for the Geisel estate. Currently, three of his books are on the USA Today's best-seller list. "Dr. Seuss is a brand, and our job is to keep growing it even though he's been passed away quite a while," Barbara Marcus, president and publisher of Random House Children's Books, told the Wall Street Journal. 
And that's not the end of the Dr. Seuss saga: Random House has already announced the release of two more unseen books in the near future.