One Man Has Pledged to Listen to Nickelback for 168 Hours Straight for Charity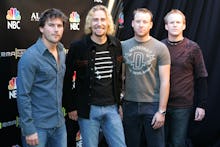 How much money would someone have to pay you to listen to Nickelback for a week? For one man, it's $23,000 — and it's all going to a worthy cause.
Jesse Carey, a popular podcaster for Relevant Magazine, committed to listening to the much-maligned Canadian rock band's "music" for 168 straight hours. Carey is braving aural and mental delirium in a weeklong stunt to raise money for Charity Water, a nonprofit that provides safe drinking water to people in developing nations. He's blown past his initial $5,000 goal and has raised nearly $23,000. The proceeds from Carey's sacrifice are being donated toward the construction of wells, spring protections and BioSand Filters that help provide clean water to communities around the world.
Why Nickelback? Carey describes listening to Nickelback for a week as the "ultimate test of human endurance," adding that putting his "personal health at risk" is worth it. And what do the doctors say? "They have all said that such an endeavor could result in irreversible damage to my ears, brain, kidneys and soul," he said on the Charity Water challenge page. A week listening to the soundtrack of Satan's elevator will do that to you.
Since the money is going to charity, Carey sees the challenge as helping the greater good.  
"I want someone who's going through a hard time next week to be like, 'Huh, I'm really down and out, life's really got me down, but right now there's a guy who's been listening to Nickelback for days straight,'" he said on the podcast, according to Time. 
With a few days left, it appears Carey is doing just fine:
Godspeed, Jesse.
h/t Time