NBC Flew a Drone Over a Frozen Niagara Falls — And the Result Is Eerily Beautiful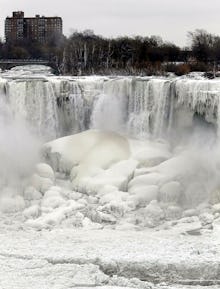 You may not be able to read this through the three layers of scarves you've wrapped around your head, but just in case: It's cold outside.
So cold, in fact, that on the border between the United States and Canada, the iconic Niagara Falls has stopped, well, falling. Western New York, like much of the U.S. stretching from Ohio to South Carolina, is caught in the vice grip of a polar vortex, a pocket of polar air that has sent temperatures on the Eastern Seaboard tumbling to record lows.
Tourists are flocking to the site of one of the natural wonders of the world to gawk at the massive ice chunks building up at the falls' crest and the billows of steam emanating from the water. The Associated Press reports that mist from the water has transformed into ice and has entrapped "every surface" around the falls, including trees, railings and sidewalks. 
Since most of us aren't going to trek to the frozen wasteland of western New York to gawk at a frozen waterfall in five-degree weather, drone footage captured on Thursday by NBC shows the eerily beautiful frozen wonderland:
Even watching that makes us feel cold.