One Amazing Photo Will Convince You the U.S. Has Become the Ice Planet From 'Star Wars'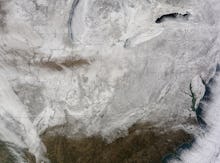 Winter won't let go.
For the past few weeks, a bubble of arctic air has gripped much of the eastern United States in its chilly paws. From Detroit to Boston, millions of Americans are dealing with record lows, biting winds and heaps of snow, making for one woeful winter. Check out how bad it was Sunday night: Pittsburgh bottomed out at minus-4 degrees; Columbus, Ohio, fell to minus-7 degrees; and Detroit was the warm spot at 5 degrees above zero. 
Well, even though hundreds of miles above Earth can see out despair. A satellite image released from NASA's Goddard Space Flight Center shows the extent of the deep ice currently encasing much of the country. The agency says the photograph was taken last Thursday at 11:40 a.m using its Moderate Resolution Imaging Spectroradiometer.
You're going to want to grab a parka before you look at this:
"The snow cover combined with the frosty air mass made the eastern U.S. feel like the inside of freezer," NASA says, as an icy teardrop rolls down its windburned cheeks. 
Sadly, the bitter blast doesn't look like it plans to retreat anytime soon. AccuWeather forecasts that the cold air will "continue to drill the same region into the end of February, riding on the heels of bursts of record-breaking low temperatures." Yay.
At least there's only 25 days until spring, when temperatures will hopefully break the freezing point.