Watch 'Sesame Street' Do a Spot-On Impression of 'House of Cards'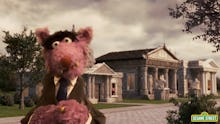 "Some people say there's too much pork in this town. I could not agree more."
That sounds exactly like something the harrowing Frank Underwood would say, but it's actually Frank Underwolf. In preparation for the new season of House of Cards hitting Netflix on Friday, the Washington, D.C.-based drama got a little help from its furry friends at Sesame Street that shows that puppets can be as scary as the Kevin Spacey.
Rather than mocking the sinister happenings of politics in Washington, D.C., the puppets had their own G-rated take of the classic children's story "The Three Little Pigs." Frank Underwolf comes to huff and puff his way into the strongest house of them all — the one with the white bricks. Similar to his human counterpart, Underwolf speaks directly into the camera while battling the thunderous musical cues.
It's jarring to see the kid-friendly, mother-approved television show rub shoulders with the raunchy drama; however, it's not the first time Sesame Street has done something for the adults. For example, take the show's recent spoof on the Oscar-winning film Birdman. 
Unfortunately, Underwolf doesn't reign supreme like Underwood usually does, so it turns out that the pork might be him.