Apple's New Emoji Are a Good, Yet Imperfect, First Step Towards Diversity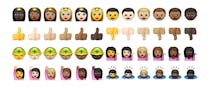 After months of rumors, Apple developers who got their hands on the most recent beta of iOS 8 saw the company's first attempt at diverse emoji, reports 9to5mac.com. The result: not bad! From what we can see, the emoji represent a diverse range of skin tones, from dark-skinned to, um, neon yellow.
Yes, the Asian skin tone needs a bit of work. Right now, it appears to be representing those affected with jaundice rather than Asian people. 
It's an odd race to be poorly represented, considering emoji is actually Asian in nature. The first emoji was created by a man named Shigetaka Kurita, and the Japanese kanji for "e" and "moji," roughly translated, mean "picture" and "character." But this is just a beta, so there's time for Apple to work on refining the actual skin color pigments more.
For a beta, however, there's a lot to be impressed with here. The use of a sliding scale allows for a range of options without cluttering the existing emoji interface. And the fact that this is happening at all is worth applauding. This is a major effort to make a part of popular culture more inclusive. Is there more work to be done? Absolutely. But users will soon be able to text their friends different races of Santa.
What a world.
The official new version of iOS 8.3 with the diverse emoji set is scheduled to be available sometime in March.