One Quote Sums Up Why John Legend Is the Voice for Justice Music Desperately Needs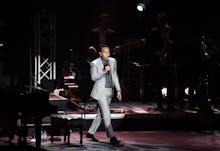 "A just society is not one built on fear or repression or vengeance or exclusion, but one built on love. Love for our families. Love for our neighbors. Love for the least among us. Love for those who look different or worship differently. Love for those we don't even know." 
That's what nine-time Grammy winner John Legend said on Monday night when he played a concert in the small Persian Gulf nation of Bahrain. It was a powerful moment — and it was a sign of just how strong Legend's internal compass is.
Bahrain is in the midst of a pro-democracy uprising, with the Shiite majority calling for representation in a Sunni government. Since the Arab Spring in early 2011, Bahrain has seen protests and violent demonstrations in the name of human rights. Several human rights activists called on Legend to boycott his Bahrain concert as a way to protest the country's ongoing human rights abuses. But the singer-songwriter refused, and released a statement in defense of his appearance: "The solution to every human rights concern is not always to boycott. Most of the time I will choose to engage with the people of the country rather than ignore them." 
Though he came under attack from critics, Legend performed anyway, citing the need for inclusion and love to heal a torn country. Based on this moving speech, and his civil rights appeal at last month's Grammys, Legend is reminding us of what we've always known: He is one of the most socially conscious artists we have.
At the concert in Bahrain, Legend addressed the crowd before singing his Grammy-winning song "Glory." According to Billboard, he said, "When you look at me, you might see international superstar John Legend, but I'm also the descendant of slaves... But we fought for change."
He was clearly aware of the conversation anticipating his arrival. "I'd like to tell John Legend that my people, the people of Bahrain, are fighting the same injustice and discrimination African-Americans suffered in the United States," said Sayed Yousif Almuhafdah, the vice president of the Bahrain Center for Human Rights, according to the Independent. Bahrain's leading rights activist, Nabeel Rajab, welcomed Legend's presence in his country. "I see that the U.S. civil rights movement is an inspiration to many Bahraini human rights figures," he told the Associated Press.
This is the role Legend has always played. He's a powerful voice in America, but Legend is no stranger to advocating for other countries, too. In early February, the magazine Los Angeles Confidential hosted a party at the Beverly Hills Hotel to honor Legend, but the songwriter declined his invitation in support of an ongoing boycott of the hotel chain. The hotel owner, Sultan Hassanal Bolkiah, has issued Sharia policies in Brunei that Legend said were "heinous." 
"These policies, which among other things could permit women and LGBT Bruneians to be stoned to death, are heinous and certainly don't represent John's values," his publicist said in a statement, according to CNN. "John does not, in any way, wish to further enrich the sultan while he continues to enforce these brutal laws."
It's a spirit that runs through his music, too. In addition to supporting other countries vocally, Legend has long been making music about civil rights in the U.S. In 2010, he and hip-hop band the Roots released an album called Wake Up! The Grammy-winning album was written in response to the racial tension that arose after President Barack Obama's re-election. 
"You would think now that we have a black president, everything's all good, but there has been more racial tension than ever before," Legend told Billboard. "A lot of people feel like they're losing grip of what America used to be." 
It goes beyond his words and lyrics. In 2007, Legend founded the Show Me Campaign to further the spirit of racial justice. The campaign awards grants to educators around the country who are fighting to break the cycle of mass incarceration through education. 
"Imagine what it would look like if our schools were set up to help people discover and pursue a personal passion instead of a predictable path," Legend wrote about the Show Me Campaign in an op-ed for CNN. "The goal is to create more student-centered environments that help young people not just do better in school but also discover what they love." 
It's through efforts like these — and a willingness to take stands like he did on Monday night — that Legend has proven to be a leading voice on matters of human rights and civil justice. His performance in Bahrain wasn't just an inspiration for the disenfranchised people of that country. It was also a reminder that musicians can and should raise their voices in honor of those who have been silenced.