12 Couples Who Ignored Expectations and Did Their Weddings Their Way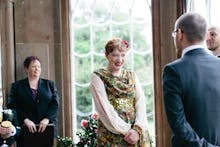 The $50 billion wedding industry would have us think that in order to celebrate your special day, you need to tick off certain boxes: white dresses, formal tuxes, bouquets and bouquets of flowers, religious vows, toasts and countless more expectations. If you don't have these things, it's as if it doesn't count.
Or does it?
Alternative or offbeat weddings are becoming more popular as couples shake off the shackles of tradition to celebrate their commitment in ways that more closely represent them. Whether it's aiming to cut back on the astronomical costs or just trying for something more reflective of their true personalities, these couples show us that a wedding doesn't have to fit into a box.
Expectation: The couple must exchange fancy rings
Kickass alternative: Wedding tattoos. Much like other wedding traditions, the exchanging of rings dates back to the Romans or Greeks. But you don't need expensive metals for a tangible symbol of marriage that physically represents your bonds. Enter: wedding tattoos.
This badass couple chose to ink themselves with the Deathly Hallows rather than shell out for expensive wedding bands. Meanwhile, Jimmy and his bride went for the classic infinity symbol to represent their commitment. And the De La Mares went with a more intricate, free-hand design that's also pretty adorable.
Expectation: Brides should wear white
Kickass alternative: Any other color. The white wedding dress is a relatively modern invention, popularized by Queen Victoria when she married Prince Albert in 1840. Which makes it only natural that these days, there's a growing number of brides shunning the traditional white or ivory altogether in favor of something a little more colorful, like Kathryn did when she married Alex in a gold Issa dress in 2013. Meanwhile, Alison chose a jewel-toned Vivienne Westwood frock for her Scottish castle wedding just this month. 
Expectation: It's not a wedding without flowers
Kickass alternative: A bushel of wheat. Whether it's the bouquet or centerpieces, flowers seem practically mandatory at weddings, costing up to $2,000 per wedding, according to one florist. But originally, brides are said to have carried garlic to either cover up odors or ward off evil spirits. 
Meaning there's no reason not to choose a nontraditional alternative, like the bushel of wheat Rachel carried when she married Steven in 2013. Or you could go with another plant, like anise, as Alyssa and John did for their barbecue wedding in 2012.
Expectation: The reception kicks off with a slow, romantic dance.
Kickass alternative: Something fast, sassy and wild. The first dance is typically assumed to be a slow, romantic (and sometimes smoke-filled) spectacle, and it's become so ubiquitous that it's a chore to pick a song that hasn't been done to death. But there's no reason it needs to be.
Michael and Joe had a friend choreograph their first dance, and managed to keep it a secret until the day arrived. A dance can also be a celebration of family and heritage, like Omo and Eulanda's surprise dance at their 2014 nuptials. 
Even the traditional father-daughter dance doesn't have to be so traditional. If you've got a dad that can dance like Ashley's, why not bust a move?
Expectation: You make it official with religious vows
Kickass alternative: Beer. "To love, honor and obey" or something along those lines — that's what we usually hear couples say after they walk down the aisle. But what if we want to pour something else out instead? Jill and Derek aren't that religious, so for their 2014 wedding in Colorado, the couple created their own unity ceremony using Harp and Guinness beer to create a Black and Tan.
Kaitlyn and Josh went in a similar direction in 2011, letting their love of hops represent their love for each other during their vows. Who said that you can't let loose during your wedding ceremony?