One Simple Stat Proves It's Perfectly Normal Not to Have Kids, Once and For All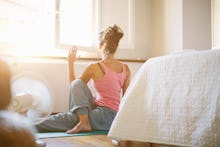 The endless conversations about whether women need to have kids, how we should talk about women who don't have kids, whether women who don't have kids are "normal"? 
Well, we can stop debating and just let the facts speak for themselves: Women just aren't having kids. 
Newly released U.S. Census Bureau data from the Current Population Survey shows that 47.6% of women ages 15 to 44 in 2014 are childless. That's an all-time high, based on the year-over-year data: In 1994, for example, 42% of American women were kid-free. Back in 1976, it was 35.1%.
Why fewer of us are having babies: There are several reasons that our nation's "cumulative fertility," as the Census Bureau puts it, has dropped. One underreported but important reason is that fewer teens are giving birth, in no small part due to "more and better contraceptive use," according to the Guttmacher Institute. Helping teens get contraception has been instrumental; as Jezebel reported, "Colorado reduced its teen pregnancy rate by 40% between 2009 and 2013 largely by providing over 30,000 LARCs for free at 68 family planning clinics statewide."
Older women are also sidestepping parenthood for a mix of reasons, some purposeful and some not. (According to the CDC, of women ages 15 to 44, 10.9% experience an "impaired" ability to conceive or carry children to term.) But as Mic's Liz Plank noted, there are more and more women who have the ability and are choosing not to. Money's a huge factor, compounded by the lack of affordable and subsidized child care, low wages and the sheer cost of raising a child today. 
Marriage also makes a difference, as American women are getting married later than ever. While there are more and more women have kids outside marriage, there's still a strong connection between marriage and childbearing. As Pew Research Center noted, the longer women wait, the less likely it is to end up happening.
Making it an acceptable choice: But one reason not captured by census data is one we can palpably sense nonetheless: Slowly, the decision to not have kids is becoming a more socially acceptable choice.
Indeed, a 2012 study found that while women still face pressure to have kids, "there are women who have low or no distress about not being mothers, even if their friends and family want them to have children," as researcher Julia McQuillan told UNL News Blog. If women don't see motherhood as personally important, they're not letting everyone else's judgments get to them. 
The ideal goal, of course, is to reach a place where we aren't judging women at all, and we're not there yet. In fact, debate around the topic has never been hotter, as discussions around the new book Selfish, Shallow and Self-Absorbed: Sixteen Writers on the Decision Not to Have Kids show. But the conversation seems to be crescendoing in the direction of consensus: Women who don't want to have kids not only have the right to decide, they also shouldn't be judged or questioned for not being "normal."
It's a matter of principle that should be easy enough to agree on. And if we can't, well, at least we have the data to prove it.
h/t Time