The 'Ant-Man' Trailer Is Here, and Its Miniscule Hero Is Larger Than Life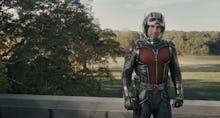 The Marvel universe's main buzz right now may be around the upcoming Avengers: Age of Ultron and the now-on-Netflix Daredevil. This morning, however, a big new challenger entered the ring for superhero aficionado attention — or, in this case, a tiny new challenger.
In the first full-length trailer for Ant-Man, we get our first long look at Paul Rudd in his supersuit. The film tells the origin story of Rudd's Scott Lang, a man with super strength when he's super small and turns away from a life of committing crimes to fight them. The story doesn't reinvent the wheel, but after the film's remarkably turbulent production cycle, its tonal mix of humor and action is promising.
Ant-Man's development has been rocky. The project was greenlit in its first form 15 years ago, with cult favorite director Edgar Wright (Shaun of the Dead, Scott Pilgrim vs. The World) attached as early as 2006. As Vulture details, Wright went through several rounds of rewrites and reworks as Marvel asked him to pull the film further into the greater cinematic universe. It didn't go well.
After almost a decade attached to Ant-Man, Wright dropped out and was replaced by Peyton Reed (Bring It On) in June of last year. The film is set for release just over a year after that directorial change.
Luckily, the film looks no worse for the wear. While Wright fans will likely always wonder what his version would have looked like, this trailer gets the spirit right. It takes Ant-Man seriously, but has fun with the silliness of his size-shifting world. Watching him run on top of a gun to kick an assailant in the head is exciting while still giving a laugh. The film's villain, Yellowjacket (Corey Stoll), looks like a promising match as well — even when he's getting run over by Thomas the Tank Engine.
Rudd's Ant-Man isn't likely to appear in Avengers: Age of Ultron, barring a surprise cameo, but fans excited to see him won't have to wait for long. The film hits theaters July 17. Watch the full trailer below: