Death Cab for Cutie's Frontman Just Gave Jay Z the Ultimate F*ck You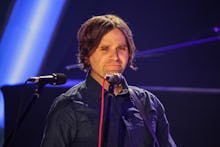 Jay Z's Tidal service promised a revolution in streaming. But on its release, all we got was a parade of 16 millionaire musicians telling us that music is awesome, because Nietzsche and Jimi Hendrix said so. Since then, there has been little meaningful discussion of how independent artists will benefit from Tidal's revolution. The backlash against the service's 1%-focused rollout has been resounding. Few critics have put the situation into simpler and more eloquent terms than Death Cab for Cutie's frontman Ben Gibbard.
In a recent interview with the Daily Beast, Gibbard told the world how Jay Z should have handled Tidal's revolution. In one quote, he revealed how farcical Jay Z's streaming revolution really is.
"There was a wonderful opportunity squandered to highlight what this service would mean for artists who are struggling," Gibbard told the Daily Beast. Jay Z could have made "a plea to people's hearts and pocketbooks to pay a little more for this service that was going to pay these artists a more reasonable streaming rate. And they didn't do it. That's why this thing is going to fail miserably."
Granted, Jay Z has promised that all artists that stream on Tidal would be "some kind of owner in it in some kind of way" — a turn of phrase which doesn't inspire much confidence. Tidal executive Vania Schlogel has assured critics that "royalty rates will be higher than other services" in a talk at New York University's Clive Davis Institute of Recorded Music. But this information has been all but buried by the star power of Tidal's marketing campaign. The company has offered little to assure users of the veracity of these claims, which only adds to the perception that this revolution was orchestrated by the rich for the rich, as Gibbard frames it.
This is far from the first time Gibbard has spoken out for issues he believes in. In 2012, he penned an op-ed arguing for gay rights and marriage equality, raising money to support gay-marriage legislation in Washington state. Gibbard has also long stood up for the struggling independent artist. He took a shot at music's pop elite abuse of auto-tune in 2009, saying alongside his bandmates that the reliance on computer correction software would discourage the coming generation of musicians from honing their actual musical skills. 
It may be no coincidence then that some of the most egregious auto-tune offenders were on that Tidal stage for its rollout.
Gibbard is not alone on the Tidal hate train. In a Daily Beast interview released Sunday, Marcus Mumford, frontman of Mumford & Sons, called Tidal's all-star celebrity lineup a group of "new-school fucking plutocrats."
"We wouldn't have joined it anyway, even if they had asked. We don't want to be tribal," he told the Daily Beast. "I think smaller bands should get paid more for it, too. Bigger bands have other ways of making money, so I don't think you can complain. A band of our size shouldn't be complaining. And when they say it's artist-owned, it's owned by those rich, wealthy artists."
Each of the 16 artists standing on Tidal's stage has a 3% stake in the company, according to sources at Billboard. As for the equity smaller artists are set to receive, Tidal executives have been close-lipped. When asked about the very real possibility that smaller artists would get next to no equity at the Clive Davis event, Schlogel launched into a "Finance 101" lesson, comparing independent artist's shares to slices of a growing pizza.
The problem is: that pizza is not going to grow unless Tidal gives listeners a reason to invest. The only benefits they've offered are higher prices on a high-fidelity service, which only will convince people that paying for music is a serious drain on monthly income, rather than something that's 99 cents or free. Most of Tidal's arguments are based on tearing down Spotify's freemium service, but that freemium strategy has helped Spotify grow its subscription base to 15 million, getting it closer and closer to giving back healthy royalties to independent artists.
Had Tidal oriented itself around supporting smaller independent acts from the beginning, as Gibbard suggests, users might have a real reason to contribute. Tidal has promised users transparency, but it hasn't offered a look at any substantial rates. Until it does, the service will continue to be a parade of musical aristocrats, while progressive, necessary musicians continue their struggle from the outside.