The Disturbing Way America's Legal System Turns People's Bodies Into Weapons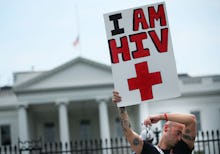 In and out of jail, 23-year old Michael Johnson feels targeted. His body and blood are seen as weapons. 
Johnson, a former college wrestler who went by the nickname "Tiger Mandingo" on social media and in the black LGBT ballroom scene, faces a triple blow of discrimination in the U.S.: He is black, gay and HIV-positive.
Arrested in October 2013 and charged with "recklessly infecting" a white student with HIV, Johnson now spends 23 hours a day in a jail cell under "administrative segregation" — the term the St. Charles County Department of Corrections in Missouri uses to describe solitary confinement. He is allowed out of his cell, alone, for just one hour each day.
"I'm HIV-positive and they feel like I could harm someone, or they feel like because people don't want to be around me, they have to isolate me," he told Mic. "Certain people feel like they can mistreat me just because I'm a little different, I guess."
Johnson is a victim of an alarming, growing set of laws across the country that criminalize HIV. Critics have targeted these laws, ostensibly instituted for protection, as ineffective at best and deeply harmful to an already stigmatized, vulnerable population.
They also raise a serious, though rarely discussed, ethical dilemma: Should the American legal system be able to recast a public health crisis — one that disproportionately affects black individuals — as a weapon?
I interviewed Johnson recently at the St. Charles County Department of Corrections. Dressed in the requisite orange jumpsuit and sitting opposite his public defender, Heather Donovan, he didn't look like a weapon. Johnson doesn't see himself as a one, either. 
In fact, he had never been in trouble until he was charged while studying on a wrestling scholarship at Lindenwood University in Missouri. It was there that Johnson had sexual relations with a white male student in 2013; that student would eventually file charges. Another alleged partner, who did not file charges, told BuzzFeed that Johnson said he was "clean." Non disclosure of one's HIV positive status before sex is a criminal offense in the state of Missouri that can result in 10 to 30 years or life imprisonment, according to the the Center for HIV Law and Policy. Johnson was subsequently charged and imprisoned on charges of "one count of recklessly infecting another with HIV" and four counts of "attempting to recklessly infect another with HIV," as reported by BuzzFeed.
"Certain people feel like they can mistreat me just because I'm a little different, I guess."
Whose responsibility? We don't know conclusively if Johnson disclosed his HIV status before having sex with the student who filed charges. But though he was unable to specifically address his case during our interview, Johnson did speak about the complicated nature of disclosure. "I don't feel like [the disclosure law] is up to date or it is justified," he said. "Just because of someone saying something — and that's all to go on, that person's word — my life was completely turned upside down."
He has a point. "These laws give the message that people living with HIV are the only ones who are responsible for reducing transmission in these contexts, and absolves the HIV-negative partner of all agency in their decision-making," University of Pennsylvania physician and researcher Dr. David J. Malebranche told Mic. "This is problematic, because at the end of the day, the only person who is in control of your sexual behavior 100% of the time is you."
"Scary" black men: HIV criminalization also reflects public fears of sex, same-sex desire and racial anxieties that loom throughout the U.S.; it cannot be ignored that Johnson is a black man whose time in jail began with an allegation of harm made by a white student. In some ways, this particular case surfaces the long-held image of the black male in the U.S. as a violent and sexually-potent threat.
"The moral salience of HIV in criminal law cannot be separated from the homophobia, racism, and gender stereotyping that shape exaggerated fears and moral judgments about AIDS and HIV in the broader society," writes legal scholar Kim Shayo Buchanan in an article, shared with Mic, soon to be published in the Minnesota Law Review. "The gender, sexual orientation, and social status of the complainant (much more than that of the accused) tends to shape perceptions of whether and when sex is a crime."
More than 1.2 million people live with HIV in the U.S., and according to the Centers for Disease Control and Prevention, "gay, bisexual, and other men who have sex with men, particularly young black/African American MSM, are most seriously affected by HIV." Nearly one in seven people with HIV in the U.S. don't know they're infected.
Threat of court intervention and prison time are not effective responses to this public health epidemic. Yet, "although the federal government has recently questioned the utility of HIV criminalization, no state has repealed its HIV criminal law," Buchanan writes. "Nor do prosecutions seem to be slowing down: rather, since the mid-2000s, they seem to be on the rise worldwide."
"The gender, sexual orientation and social status of the complainant ... tends to shape perceptions of whether and when sex is a crime."
Indeed, Missouri is hardly the only state attempting to curb HIV transmission by criminalizing HIV-positive individuals. According to the CDC and the Department of Justice, 67 laws "explicitly focused on persons living with HIV" had been established in 33 states by 2011. That same investigation found that 24 states have laws requiring people living with HIV to disclose their status to sex partners, 14 require disclosure to partners who share intravenous needles and 25 criminalize behaviors that pose low risk for HIV transmission.
"Such laws serve notice to all HIV survivors that it is open-season on not only their race and sexual identity, but also the very contents of their blood," writer and scholar-activist Tabias Wilson told Mic.
What's more, black Americans are both at disproportionate risk for HIV and overly represented within the prison system. HIV criminalization laws will undoubtedly establish yet another pipeline through which HIV-positive black Americans may be shuttled.
While he prepares for his hearing in May, Johnson continues to spend time alone in administrative segregation. During our interview, he insisted accusatory claims filed by other inmates with detention center administrators, such as that he threatened to spit blood at them, were all fabricated. Instead, Johnson says he has been unfairly targeted as a result of of racial prejudice, homophobia and HIV stigma; he is a black, publicly gay inmate with a widely known HIV status, in a detention facility located in the mostly white suburb of St. Charles.
"You didn't think the system would be that bad where it would demonize you for being positive," he said. "There's two things in my case people hate: They hate men who are gay, and I also think the thing that people don't understand and hate is HIV." 
Mic asked officials at the detention center about Johnson's claim that he has been segregated because of his HIV status. Public affairs coordinator Colene McEntee responded that she could not comment on individual cases because of privacy standards. She did say, however, that "the department treats all inmates equally and with universal precautions, and denies discriminatory treatment against Mr. Johnson or any inmate."
"Such laws serve notice to all HIV survivors that it is open-season on not only their race and sexual identity, but also the very contents of their blood." 
Johnson's case may set a precedent in Missouri, and in other states across the country, that casting blood and bodies as menacing weapons is an appropriate way to fight a public health epidemic. It's not. By increasing fear of and stigma against people living with HIV, criminalization will just make it harder for people living with HIV to disclose their status or even get tested.
"Maintaining these laws just further puts stigma and shame on those individuals living with HIV, and makes already challenging medical, dating and social situations even that much more traumatic," Malebranche said. 
He's right. The red ribbon must not become a scarlet letter.
Correction: April 16, 2015
Correction: April 23, 2015