Meet the Comedian Taking Physical Comedy to a Whole New Level — Boobs, No Boobs and All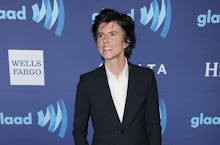 "After my surgery," Tig Notaro joked to Mic, "I identify as female now."
Notaro is referring to her double mastectomy, which she had after announcing her breast cancer diagnosis during a now-legendary August 2012 performance, for which she welcomed the crowd with, "Hello. I have cancer."
With two new documentaries (including Knock Knock, It's Tig Notaro, which premiered Friday on Showtime) and a memoir on the way, the comedy veteran is on fire. Notaro's early work included jokes about having "little titties." Seventeen years into the business, she's an in-demand comic's comic who dazzled audiences last November by telling a story about her awkward experience getting a TSA pat-down while standing on stage topless.
"[The TSA agent] didn't feel any boobs, and she didn't feel a bra," Notaro recounted. "She looked up at my face, really drank it in. Apparently that didn't help. I knew all I had to do was talk. She'd hear my voice and she would know that I'm female. But I really didn't want to help her."
In entertainment, an industry where women's bodies are always on display, Notaro uses her body on her own terms — she's physical without relying on hyper-sexualization or pre-teen bathroom humor.  
Whether it's "little titties" or no titties, Notaro fearlessly puts her body — a 44-year-old, cancer-surviving, seemingly androgynous body — on display, front and center. Like other female comedians, from Lucille Ball to Amy Schumer, whose show Notaro previously wrote for in Season 1, she is revolutionizing physical comedy.
For Notaro, women have always been at the center of comedy. Notaro's mother, who suddenly died just months before her cancer diagnosis, was the "first genuinely funny person" she'd ever met. "My mother and I would always watch Joan Rivers when she hosted The Tonight Show, and it was always such an event to experience together," she wrote in an email to Mic.
The Comedy of the Body: From walking up to audience members and making clown horn noises at them until they wheeze with laughter, to taking off her shirt and exposing her mastectomy scars onstage, Notaro develops her jokes "in truth[s]" that "then spiral into silliness." Notaro has cultivated her craft to explore how bodies operate, how they engage with each other and with objects, and how they transgress what is considered normal.
"Anything in life should be able to be used as comedy," she explained to Mic, "including the body, which is obviously an extension of one's self."
Notaro said she didn't originally see herself as a physical comedian, because, "I always thought that you had to be over-the-top insanity on stage to be considered a 'physical comedian.'" Now she heartily embraces the title. "Even though I'm subtle, I still use my body pretty prominently from time to time." 
For Notaro, whose comedic philosophy is, "Tragedy + Time = Comedy," humor can be found in the mundanities of life, and simply in reaching out to touch someone.