The Story of How FKA twigs Became Famous Will Make You Like Her Even More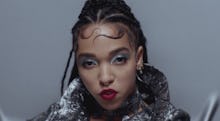 FKA twigs, born Tahliah Debrett Barnett, is one of the most confident and energetic musicians today, though you wouldn't know it from her personality. She's actually "living in a constant state of shyness," according to the Guardian, but that shyness is betrayed by her bold artistic persona. Barnett is relatively new on the music scene, and she already has a reputation for being uncompromising in her artistic vision. She's been compared to artists held in similar esteem — musicians like Kanye West, Frank Ocean and James Blake. And she's earned it.
What's really appealing about Barnett is that she's totally unlike anything else. Her music doesn't fit neatly into any genre, yet it's undeniably powerful. Her live shows garner rave reviews, and her first full-length album, LP1, earned nearly unanimous praise. Barnett's music is that rare thing — something truly unique amidst a flood of artists engineered for maximum popularity. But the only thing more unique and fascinating than Barnett's music is her backstory.
Barnett grew up in the English countryside, the only mixed-race student at her private Catholic school. "People said horrible things about something I had no control of, which was tough," Barnett told Dazed of her ethnicity. "Half of my life I've had people staring at me because they think I'm funny-looking and ugly. The other half of my life I've had people staring at me because they think I'm fascinating. Everything neutralizes. It's more of a statement on society and how weird it is."
But her youthful isolation at school and in the countryside developed her as an artist. "It was boring and it was beautiful," she told Rolling Stone. "There's ... nothing to do, and when you get to be a teenager, sometimes you kind of lose touch with nature, like I did. You become so trapped in yourself." But she was artistic from a very young age. When she was 17, Barnett moved to London to pursue a career in dancing. In addition to working in videos, she also had a gig as a cabaret dancer in an underground circus. Barnett says her time in the circus lent to her confidence onstage today.
"I feel fearless in my ideas and stage performance since I've been in front of really tough crowds, like a whole room full of drunk rowdy men who came to cabaret because they think they're going to see naked girls," she told Pitchfork. "So I always felt quite calm on stage, because I know that when I do my own shows, people have actually come to see me."
Her entrance into music, then, was a bit circuitous. Barnett was a professional dancer before she was a musician. Before she became FKA twigs, Barnett danced in music videos for Kylie Minogue, Ed Sheeran and Jessie J. She played a marionette in Jessie J's video for "Price Tag," a role that was demeaning, sexist and notorious. Though she despised the stint, Barnett considered it part of the job.
"I fucking hated it," she told the Observer. "Do you think I want to be dressed up as a puppet? As a doll, waving? No. But I was paying my dues. I'm sure Jessie had to do rubbish jobs as well before she was where she is now. I was a tiny cog in her wheel. As I'm sure at some point she was a tiny cog in someone else's wheel."
For a long time, she was known solely by her role in that video especially. Years later, she'd document her anguish at being known by those performances in a song called "Video Girl."
It didn't take her long to shake off the stigma, though. Barnett met an A&R rep named Tic Zogson at a bondage party, and she soon signed to London-based record label Young Turks, an imprint of the influential XL Recordings. In 2012, she self-released her first record, EP1, with his assistance. Within two years of that release, Barnett was on the shortlist for the BBC's prestigious "Sound of" contest, an award she lost out to Sam Smith in 2014. 
Soon, she gained the sort of notoriety that required she change her name. She chose twigs because of the noisy way her joints pop when she dances. She went by simply "twigs" before an American band named The Twigs voiced concern about the overlap (as Dazed pointed out, however, "they only have ten followers on Twitter and sing songs about runaway sandwiches and pretty ponies.") She added "FKA" for "formerly known as" and moved on to better things.
Ironically enough, though, the real story of how FKA twigs became famous is that she didn't seek fame. "It makes me feel sick, the thought of being a famous person. It's just not me. I'm the happiest when I'm in the studio, not on a beauty parade," she said in Rolling Stone. "As long as I'm happy I'll keep on doing it. But if I'm unhappy, I'll just disappear," she told the Guardian. "I will shave off my hair and live in the south of France, and I'll be learning a new language where no one gives a shit about who I am. I need to be happy."
Here's selfishly hoping she'll be happy in music for at least another few albums.