This Man Faces Life in Prison for HIV Transmission, and We Need to Pay Attention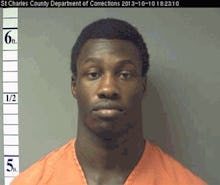 Uncredited/AP
Michael Johnson, a 23-year-old former Lindenwood University wrestler, made national headlines last year after being arrested in Missouri and charged on several counts of infecting and exposing partners with HIV. Johnson was found guilty of all charges Thursday, according to BuzzFeed, and now faces up to life imprisonment. The jury will decide his sentence Friday.
Missouri requires those who are HIV positive to disclose their status to their sexual partner. After three days of testimony, a nearly all-white jury convicted Johnson on one count of recklessly infecting a partner with HIV, one count of attempting to recklessly infect a partner with HIV and three counts of recklessly exposing partners to HIV.
Despite the news, Johnson's case has only intensified a burgeoning fight against the criminalization of HIV. Activists view this fight as both an LGBT rights issue and another aspect of the national movement for black lives, given that HIV disproportionately impacts black gay and bisexual men.
"Michael is loved and supported. I, along with others, will engage the LGBT/SGL (same gender loving) communities to advocate for change in these laws on both the state and federal levels," Akil Patterson, Johnson's friend and an LGBT sports advocate, told Mic.
Johnson's case also illuminates yet another route to imprisonment through which black people will likely be disproportionately shuttled. 
"What happened to Michael Johnson is a call to action. HIV criminalization is anti-black violence, period," Charles Stephens, director of the Counter Narrative Project, which gives a voice to black gay men, told Mic. "You can't be against the Prison Industrial Complex without being against HIV criminalization. You can't ignore the fact that the communities most vulnerable to HIV are also the communities most vulnerable to criminalization. We must fight the clinic-to-prison pipeline."
Black people in the U.S. already make up nearly 1 million of the 2.3 million incarcerated individuals in the U.S. and are incarcerated at nearly six times the rate of white people, according to the NAACP. Moreover, black Americans, followed by Hispanics, lead in HIV infections in the U.S., which means that it is highly likely people of color will be those impacted most by a growing set of HIV criminalization laws across the country.
"What happened to Michael Johnson is a call to action. HIV criminalization is anti-black violence, period." 
One group of black gay men, organized by the Counter Narrative Project, is fighting to ensure those who march under the banner #BlackLivesMatter also insist that the lives of HIV positive black people, especially black gay men, matter as well. 
In a letter to be released Friday and made available to Mic via email, the group made clear that Johnson's case deserves public outcry because it has the potential set a precedent for over-criminalizing black gay or bisexual men who are HIV positive. "Far too many young black gay men receive an HIV diagnosis in this country, and nearly 1 in 3 can expect to in their lifetimes. And Missouri's solution, to a problem they helped create, is prison," the group wrote in the letter.
"Michael Johnson is a part of our community and he is not disposable," the letter states. We can begin to end the stigmatization of HIV positive people by treating the virus as a public health concern rather than a punishable social problem.