Hulu Just Saved Mindy Kaling's 'The Mindy Project' from Cancellation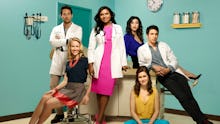 Mindy Kaling fans rejoice: The Mindy Project has been given new life on Hulu.
After Fox announced the show's cancellation last week, rumors floated that Dr. Mindy Lahiri's days were not yet numbered — and that Hulu could pick up the series. The streaming service made good on their promise — to the tune of 26 new episodes.
In a statement about the pickup, Kaling said she was happy the show would find a new home where "so many of our fans are already watching the show." Indeed, part of The Mindy Project's problem has always been an audience that isn't watching the show live. The ratings for the show were abysmal in its third season, and the passion of critics can only get you so far.
Considering the outpouring of sadness when The Mindy Project was canceled, the show clearly has fans — or perhaps Kaling does. As a role model for women and people of color in the industry and out of it, she's the kind of star and writer easy to root for. 
Those who love her, however, will want to make sure they support her show on Hulu. While it's easier for a show to survive on streaming services, it's also harder to become part of a cultural conversation, as Community has discovered on Yahoo this season. In order to become as relevant as its devoted following indicates it should be, it'll need to create a lot more buzz.
So far, the distribution plan for the 26 episodes is unclear. While it may be tempting to role the episodes out every week like Community, the success of Unbreakable Kimmy Schmidt on Netflix should inspire Kaling and Hulu. Given a smart, funny show featuring strong women at its core, binge-watching fans will devour and support. This could be not just a second life for The Mindy Project, but an even better one.