How Credit Cards Can Hurt America's Low-Wage Workers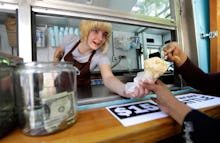 The "Pass the Mic" series showcases voices, perspectives and ideas that spark interesting conversations. 
The line at my favorite coffee shop was out the door, as Oktoberfest revelers descended in search of the caffeine pick-me-ups that would power more rounds of beers and brats. When it was finally my turn to order, I asked the barista at the register how she was doing. Exhausted, she said — overworked and overwhelmed. 
Serving more customers must at least mean receiving more tips? I wondered. Not anymore, she said: The baristas used to take home $4 to $5 each, per hour, in cash tips. Now that customers had switched to plastic to pay, employees were lucky to see 50 cents in the jar at the end of each shift. 
Sipping my coffee, I realized I was part of the problem: I always paid with credit card, never dropping a bill in the tip jar.
I was reminded of this experience on Tuesday, when the Los Angeles City Council voted 14-1 to increase the city's minimum wage to $15 over the next five years — with pressure mounting on other cities and states to follow suit. We've increasingly come to acknowledge the problem with wage levels for our lowest earners, Americans like my barista who haven't shared in the gains of the recovery.
Indeed, income inequality is in our public discourse more than ever: Over the last month, we've seen stories on Hillary Clinton's failure to tip at a Chipotle in Ohio while on the campaign trail, the group Fight for 15's nationwide demonstrations demanding a $15 minimum wage, New York Gov. Andrew Cuomo's call for a wage board to investigate fast-food workers' pay levels and University of California, Berkeley researchers' study highlighting the $153 billion spent annually on government benefits for the working poor. 
But this reckoning has been incomplete. In our discussion around supposedly stagnant pay for workers at the bottom of the wage ladder, we haven't recognized that millions of Americans have suffered a broad but invisible pay cut over the past decade — one happening in newly empty cash tip jars.
Payment trends over the last 15 years have churned up a perfect storm at the countertop. While we've always slipped a dollar to a valet and left a five in our hotel room before checking out, the countertop tip jar is largely an invention of the new millennium. In the early 2000s, tip jars "multiplied across the city, showing up at coffee counters, video stores, even the doggie day care center," the New York Times wrote in 2002. 
Cash tipping has become even more culturally engrained since then: A buck changing hands or loose change dropped in a tin supplements wages for workers brewing coffee, building burritos and scooping ice cream — not to mention the barbers, stylists, nail technicians, masseurs, valets, coat check attendants, bellmen, baggage handlers, hotel housekeepers and others of the 4.3 million tip-earning professionals working in the U.S., according to an Economic Policy Institute analysis. The EPI also states that tip-earning jobs sit at the bottom of the wage ladder, with tipped workers earning "a median wage (including tips) of $10.22, compared with $16.48 for all workers."
Like it or not, tipping is ubiquitous in America when it comes to compensating these low-wage earners, combining our world leadership in personal philanthropy with our unflappable faith in hard work rewarded. However, just when cash tipping became a centerpiece of service workers' compensation, paying with plastic got easier. In 2003, Visa and MasterCard began allowing customers to make purchases under $25 without a signature, and suddenly we used our cards to buy everything — even our morning lattes. As of 2013, only 27% of purchases in stores were made with cash; 66% occurred with credit and debit cards. 
But expressions of gratitude and praise still rely on cash; the rise of plastic has meant a thousand paper cuts to many workers' wages.
While the extent of tipping remains one of the most elusive facets of the cash economy, there is strong anecdotal evidence of a precipitous decline. The 2002 New York Times piece on the rise of tip jars quoted one Starbucks barista who reported earning $160 per week in tips. A 2013 Reuters article on tipping, a coffee shop owner in Los Angeles reported that "her baristas, who make between $9 and $12 per hour, could once count on $50 in tips per shift, but now sometimes make less than $5." 
The conversation I had with my barista corroborated this story, and it inspired me to start DipJar, where we make tip jars for credit cards. Every day, we hear from tip earners like Melanie, a barista in New Hampshire, who reported that "tips really make a difference in whether or not you have enough money for gas at the end of the week." Now her colleagues struggle to figure out where that essential money is going to come from. As one Rhode Island barista put it in an email to us, "I'm so sick of leaving a 10-hour shift with only $4 in cash!"
A couple of dollars an hour may not seem like much, but for low-wage workers they add up to a lost lifeline. For a hotel housekeeper, valet or barista earning $9 an hour, a $3 drop in tips means a quarter of real take-home compensation lost. For these workers, wages aren't flat: They're in free fall.
When we consider policies to assist our nation's low-wage employees, then, we must remember the empty tip jars. Workers who rely on them aren't just failing to take part in the gains of the recovery. They're actually falling farther and farther behind.