Six Officers Have Been Officially Indicted for the Death of Freddie Gray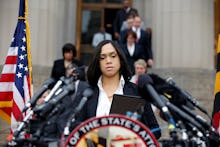 Six officers in Baltimore have been formally indicted for their role in the death of Freddie Gray on April 19. Baltimore City State's Attorney Marilyn J. Mosby made the announcement at a press conference Thursday afternoon. The officers will be arraigned July 2. 
On May 1, Mosby announced the officers would be charged in connection to the death of Gray. The indictments issued Thursday indicate that a grand jury has agreed with the decision and that a trial will go forward. 
Mosby called the arrest illegal arguing the officers recklessly endangered Gray's life eventually leading to his death. 
"On May 1st our investigation revealed that we had enough probable cause to bring charges against the six officers," Mosby said in an official release. "The Grand Jury, who also concluded there is sufficient evidence for probable cause, returned indictments on all counts presented to them."
During the press conference, Mosby noted additional information brought to light since her May 1 announcement made her office slightly change the charges being pursued against the officers. According to the official release on the indictment, the charges being pursued against the six officers are: 
Officer Caesar R. Goodson Jr.
Officer William G. Porter
Lt. Brian W. Rice
Officer Edward M. Nero
Officer Garrett E. Miller
Sgt. Alicia D. White
Correction: Nov. 30, 2015