This YouTube Star Turned the Tables on Everyone Calling Her a Sellout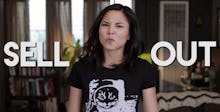 Comedian Anna Akana is a YouTube star on the rise. She has more than 1.2 million YouTube subscribers, a podcast and an event series, and she just launched a clothing line. Now and then, she has to contend with people calling her a "sellout" for the income she makes through brand sponsorships. Now she's taking her trolls to task.
Akana posted a video this week in response to the commenters who said she was selling out for incorporating promotions into her YouTube clips. One example: a recent video titled "When It's Okay to Be a Bitch" that includes a creative shoutout — Akana speaks in a "demon voice" and turns herself purple — to Audible.com.
Akana points out that "sellout" is an insult we only hurl at people in entertainment when they try to get paid for their work. It's not something you'd say, for example, to a waitress, insurance agent, salesman or even some athletes.
"Do I feel like a sellout?" Anna asks herself. "If a sellout is someone who puts high value on their work, then sure. If a sellout is someone who recognizes that money frees up your time to work on non-paying passion projects, awesome. If a sellout is someone who loves what they do, but also wants to make a living at it, then yeah."
Everyone hates ads, but the way we see ads is changing. Online advertisements used to stay relegated to pop-ups and sidebars. But running banners and pre-rolls next to articles and videos has become so cheap on the Internet that it's nearly impossible to sustain a business on those kinds of ads alone. 
This has lead to a big rush for artists and the media to embrace content sponsorships. But as John Oliver pointed out in a segment on camouflaged native advertising, we hate these kinds of ads just as much, if not more.
Arguably, it's more ethical to warn viewers that what they're watching is supported financially by a brand. But if artists can't run ads that people end up clicking on or viewing, it's only going to get more difficult for anyone to make money doing what they love on the Internet.
Watch Akana's hilarious video below: