10 Badass Black Men Who Redefined Black Masculinity Before Jaden Smith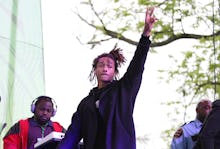 Jaden Smith is a self-defined, daring and fly 16-year-old black boy with a cosmic sartorial sense. His clothing choices, which have included wearing a dress to actress Amandla Stenberg's prom and donning a flower crown at Coachella, have captured the attention of media outlets and cultural pundits alike. Zeba Blay at the Huffington Post, for example, recently penned a convincing article naming Smith one of the #carefreeblackboys reimagining the boundaries of normative black masculinity.
"I look at Jaden and I see how he's part of a historical legacy of black men, especially in entertainment, who've pushed the boundaries, sartorially and culturally, of what it means to be a man in American society," Scott Poulson-Bryant, author of Hung: A Meditation on the Measure of Black Men in America, told Mic.
Smith is hardly alone. Shamir, for example, a 20-year-old gender-nonconforming music artist, is another contemporary celeb breaking free from the gender prison cells that restrict the expressive capacity of many black boys and men. In a recent New York Times feature, the artist, dressed in a "baby-blue Nelson Mandela T-shirt of his own design, tight mustard jeans and chipped nail polish," describes himself as "naturally androgynous."
While subverting the archetype of the aggressive, unemotional, physically powerful and sexually potent black man might bring about a certain freedom, it can also bring about violence. Cultural expectations of aggressive black masculinity or deviance undoubtedly contribute to things like disproportionate rates of police brutality against black individuals, as well as their over-criminalization. On the other hand, black men who are gender-nonconforming might easily be policed by other black folk.
"Black men are no different, of course, than white men when it comes to meeting expectations of performing cisgendered masculinity," Poulson-Bryant said. "But performing masculinity does seem to be a much more fraught experience for black men — it's literally in many ways been the death of us, and anyone who challenges the status quo can often be policed for it, it seems."
Given this reality, those who use their bodies, gender expressions and fashions to destroy rigid notions of black masculinity are brave.
"The black man, in entertainment and otherwise, has always been at the cutting edge of urban fashion," Poulson-Bryant said. "Perhaps brothers have felt so threatened by the expectations of gender performance that we've had no choice but to cut a new swath, so to speak, to bend the rules toward self-expression because the rules otherwise never seem to go in our favor."
"The black man, in entertainment and otherwise, has always been at the cutting edge of urban fashion." 
Jaden is one of the brave. Here are 10 others who helped paved the way. 
1. Richard Wayne Penniman (best known by his stage name, Little Richard), recording artist  
Little Richard is a perfect example of a black male artist who bent gender rules. His decision to wear makeup or adorn himself with his mother's clothing resulted in punishment from his father, but his gender play eventually worked in his favor as an adult artist. 
2. George Clinton, P-Funk star and brainchild of the Funkadelic and Parliament bands
Clinton, described by the Guardian as a "style leader," often employs "out-of-this-world" sartorial effects. His colorful hair styles, eyewear and jewelry are almost always embellished and funky, much like the funk music he pioneered in the '70s and '80s.
3. Prince, iconic vocalist 
Over the past several decades, Prince has used his artistry and sartorial flare — like high-heeled boots and body-hugging outfits — as tools to create a performance of soulful and sexy gender fluidity. Prince has always expressed a style free from restriction, and has inspired new imaginings of black masculinities in the process. 
4. Dennis Rodman, retired NBA player 
Rodman, the  former NBA star who played for the Detroit Pistons, San Antonio Spurs, Chicago Bulls, Los Angeles Lakers and Dallas Mavericks, is known for what some have called "outlandish behavior." Others might deem Rodman audacious for doing things like wear a wedding dress to his book release party in New York City in 1996.
"I interviewed Dennis Rodman at the height of his quasi-trans, cross-dressing days in the mid-'90s, when he admitted to bisexuality, or at least the potential for it as an identity for himself," Poulson-Bryant said. "That this time was also the time of his superstardom as a Chicago Bull is astonishing to recall, as that was a time way before the hysteria around 'Who's the gay athlete?' that came later, let alone major athletes actually coming out of the closet."
5. Lenny Kravitz, singer and songwriter 
"I interviewed Lenny Kravitz a couple times," Poulson-Bryant told Mic. "Lenny is firmly in the rock star tradition of adorned masculinity, which traces from Little Richard to [Jimi] Hendrix to [Mick] Jagger and [David] Bowie, so not unexpected but also quite an important contribution to the powers and importance of gender fluidity and its links to creativity and rule-breaking and challenging societal norms."
6. RuPaul Andre Charles (better known as RuPaul), performer and host of the popular RuPaul's Drag Race
RuPaul is a cisgender gay man well known for his drag persona and femme performance. While he has come under fire, particularly by black trans women, because of the ways he is falsely elevated as a trans person, the courage he has exhibited as he evades gender norms by dressing and performing in drag is still worth noting.
7. Kevin Aviance, club musician and fashion designer 
In June 2006, Aviance was brutally attacked in New York City by a group of young men, who hurled anti-gay slurs at him. Aviance's jaw was broken during the attack. His story is an example of the violent force of gender policing. Being attacked for his appearance did not stop the artist, who once stole his mom's makeup and clothes for a performance, from appearing and performing in various venues in drag. 
8. Anthony Charles Williams II (also known as B. Slade), multi-talented performance artist
B. Slade is a former gospel artist who received tremendous backlash from those within the gospel industry after disclosing his attraction to men. But far before his disclosure, he staged performances that pushed against the traditional values and gender expectations of black churches. B. Slade, who often would rock elaborate hairstyles and wigs, once showed up at a Vibe interview dressed in "a forest-green military winter jacket, sunglasses and a red and blonde Mohawk." He also courageously introduced new elements of dance and vocal performance in the gospel music world. 
9. Lawrence Washington, celebrity hairstylist and co-host of Bravo's Fashion Queens
Washington might be best known for his appearances on Bravo's Real Housewives of Atlanta and Fashion Queens, where he can be seen made up and wearing a stylish heel, but Washington is a freely expressive soul on and off camera, whether he is dressed in clothes typically ascribed to women or men. As BET notes, this ability to bend gender has catapulted him to fame.
10. EJ Johnson, college student, socialite and son of Cookie and Magic Johnson 
EJ Johnson is a 22-year-old black voice shattering perceptions about gender. Not only does he style himself in gender nonconforming fashions that work for him, but he also uses his social media platform to advance conversations on style through his #TeamThis and #ForeverFlawless hashtags. His famous father, Magic Johnson, has said he loves him just the way he is. 
Too often a dress on a male-identified person is interpreted as a sign of their sexuality; these individuals tend to be perceived as gay. However, gender performance is not a marker for one's affectual or physical attraction. The responses black men receive when toying with gender has everything to do with the pent-up anxiety maintained within a culture that refuses difference.