The Coolest Robots We've Ever Seen Might Come From This Grocery Store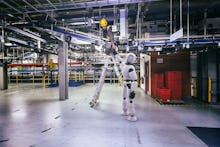 Online grocer Ocado announced Wednesday it would be building a legion of artificially intelligent robots to join its human workforce, and we should all pay attention. If these bots succeed, they'll be some of the most advanced robots in the world, a major step forward on the road to the full-blown artificial intelligence we've only seen in science fiction.
Ocado, a huge Internet supermarket based in the United Kingdom, will begin work on the SecondHands project, a collaboration between Ocado's technology department and several universities around Europe, to create fully autonomous, advanced robots. 
These machines will hand over tools and move equipment around for human workers and learn when and what the worker needs in order to make the process quick and efficient. 
Think of them like assistants to a car mechanic. Only, the grocery bots will know which tools to grab, when to grab them and, eventually, to predict what tool will be needed for the next part of the repair.
"We want our technicians to be able to rely on these robots," Graham Deacon, leader of robotics research for Ocado Technology, told Wired. "These robots have got to work in real time and respond in the right timeframes and be something that the technicians feel comfortable relying on."
The robots will be based on the hardware of a German robot called ARMAR, but the software will be tooled for Ocado's individual needs. (If the company's career board is any indication, they're still working to expand the department.)
The project will reportedly take five years to complete, but the wait seems well worth it. Eventually, a team of these robots could even take on jobs themselves, maybe even building their own factories to work in. 
"If SecondHands existed today it would not be stretching the truth to say it would be the most advanced assistive robot in the world," Deacon told Wired. "In five years' time somebody else might be doing something similar, but if it were to exist today it would be the most advanced robot of its time."
h/t Wired