Watch Jeb Bush Kick Off His 2016 Presidential Campaign Live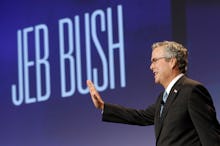 Starting at 3:00 p.m. Jeb Bush will take the stage at Miami Dade College, where he is expected to officially announcing his 2016 candidacy for the Republican nomination for president of the United States.
"We will take command of our future once again in this country," Bush is expected to say in the speech, according to part of a Bush campaign announcement. "I will take nothing and no one for granted. I will run with heart. I will run to win."
Watch the live stream of coverage, provided by CBSN, below:
Journalists and members of the media began tweeting other highlights from the announcement almost immediately.
The former Florida governor's team is hoping the Miami kickoff will breathe new life into a campaign — operating officially unannounced for the last six months — that has made some recent missteps. In May, Bush told Fox News' Megyn Kelly he would have authorized the 2003 invasion of Iraq even with the benefit of hindsight. It was a claim he was ultimately forced to walk back. That same month, Bush fumbled a response to a university student whoaccused his brother, former president George. W. Bush, of creating the Islamic State group.