'Orange Is the New Black' Is Dismantling Lesbian Sex Myths, One Scene at a Time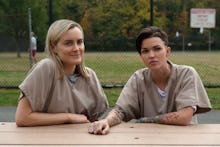 With the arrival of the third season of cult favorite Orange Is the New Black comes another 13 episodes jam-packed with prison cliques, surprising betrayals and, of course, a whole ton of sex behind bars.
Orange Is the New Black set the bar high in its first two seasons with its frank, realistic and highly diverse portrayals of sexuality, with nuanced takes on attraction, love and sex among various genders and orientations. (After all, one of the show's lead writers, Lauren Morelli, realized she was gay while writing season one.) Season three packs an even bigger punch, by tackling some of the most pervasive lies about what we believe about sexuality, particularly for lesbians. 
Here are four sex myths OITNB brilliantly takes on this season — because nothing says progress quite like a casual strap-on scene.
1. Lesbian bed death is bullshit.
When Alex propositions Piper for a rendezvous in the library, Piper claims a headache, then blames the legendary "lesbian bed death" for her sudden disinterest in sex. Alex's reply: "It's bullshit."
Piper's referring to the now-iconic term coined by sociologist Pepper Schwartz in 1983 to describe the phenomenon of sex tapering off for lesbians more than other couples. But Schwartz's theory that women (especially the ones sleeping with other women) want sex least of all has been upended by countless contemporary sources.
A recent Autostraddle survey of 8,566 lesbian women found that 35.6% of queer women in monogamous relationships and 35.5% in non-monogamous relationships have sex multiple times a week — which is slightly higher than the 28.7% of partnered straight couples ages 25 to 29 who have sex multiple times a week, according to Kinsey Institute research. And while those in relationships may experience declining sex lives, it's hardly a purely lesbian phenomenon. 
"Lesbian bed death is the greatest disservice we ever did to our community. We really screwed ourselves with that one, but not in a good way," Felice Newman, sex coach and author of The Whole Lesbian Sex Book, told the Daily Dot. Plus, studies show that lesbians are much more likely to orgasm during sex than straight women. We're with you on this one, Alex.
2. Yes, lesbians use strap-ons. And it has nothing to do with missing men.
Warning: GIF contains explicit scene of sexual nature.
As Vulture declared it, 2015 may be the year of the TV strap-on, and there's no show that does it better and more realistically than OITNB. This season, a flashback sequence gives us Big Boo having sex with an old girlfriend using a rather large belted dildo. The scene is casual, loving and hot. Best of all? The strap-on isn't mentioned between the couple, instead treated as an everyday and common occurrence. 
In fact, a lot of lesbians use strap-ons, and an Autostraddle survey found that use of strap-ons in bed often leads to a greater proclivity to orgasm. 
The actress who plays Big Boo, Lea DeLaria, told Cosmopolitan that getting to film such a realistic depiction of lesbian sex meant a lot to her. "That's a very important part of being a butch, and it's something that most people don't talk about or discuss at all," she said. "And the fact that I am literally having sex with a dildo in this episode, in the proper way, actually strapped on, the way butches do it, was amazing."
3. Having a fetish is perfectly normal — you'll find someone who's into it.
Season three finds the girls working at Whispers discussing the latest in fetishes, from furries to bronies. Cindy quickly reminds them that having sexual interests outside the norm is perfectly OK:
"Everything is a thing. Like them people who like to fuck in animal costumes ... That's the thing with the Internet. Nobody's a freak no more. It used to be all these weirdos sitting alone in their houses jerking it to bugs, falling in love with their toasters, feeling all creepy and sad. Now all they got to do is log on ... Suddenly shit be perfectly normal. You could be into cannibalism or like being tickled. It don't matter. Somebody out there going to like what you like."
She's right: The Internet has served as a great equalizer for those with specific sexual proclivities, as sites like FetLife and niche online dating sites have proven. For those caught up on the myth that whatever they are into in bed lies outside what's "right" or "normal," Cindy's words are a welcome and wholly sex-positive reassurance.
4. Your first time can be frightening, no matter your orientation.
For women, questions around "losing your virginity" revolve around penetrative sex with a penis — how it might hurt, anxieties about getting pregnant, questions about condoms. But the strictly straight definition of "virginity" misses the big picture, especially for women who sleep with other women. As Slate's Ask a Homo put it about a lesbian's first time, "It's when you feel like you have sex with another woman."
And whether you're straight, gay, lesbian, bisexual or identify as sexually fluid, a first-time sexual experience is nerve-wracking. Orange Is the New Black displays this universal awkwardness when Suzanne admits to Morello she's never had any sexual experience before. "I don't think I can do it. I don't know how," Suzanne complains.
"I was really scared my first time too," Morello assures her. "Your first time is going to be messy and bumbling and weird. Everyone's is."
Because the myth that first-time sex would only be weird or scary for straight partners is absolutely off the mark. Those "messy and bumbling" experiences, unfortunately, are part of everyone's life. Everyone, like Suzanne, has to ask, "What do I do with my hands?" 
We assume she'll find out.