The Removal of the Confederate Flag in South Carolina Deserves Only Cautious Praise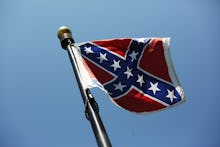 On Monday, South Carolina Gov. Nikki Haley called for the removal of the Confederate flag from the state Capitol in Columbia to great cheer. Haley made the announcement following the brutal murder of nine black parishioners by an avowed white supremacist during a Bible study session Wednesday at the historic Emanuel African Methodist Episcopal Church in Charleston.
I understand why some are lauding Haley's decision. Symbolism is important, and public artifacts influence our conceptions of our past and our present; for better and for worse, they shape our public consciousness and collective memory.
But while some perceive the imminent flag removal as a decisive victory, we should be cautious about symbolic gestures of racial reconciliation that aren't matched by a real commitment to undo the material affects of racism.
The Confederate flag has a contested and storied resonance. To some white Southerners, it largely represents a certain heritage and pride of place. But to black people in the U.S., it is a vestige of white racist terror and enslavement.  
Given this reality, the flag's absence might signal progression in a country shaped by the cruel forces of anti-blackness. And as the Atlantic's Ta-Nehisi Coates writes, "The Confederate flag should not come down because it is offensive to African-Americans. The Confederate flag should come down because it is embarrassing to all Americans."
The Confederate flag is no more violent than the racist ideology that gives it its symbolic power. Racist ideologies, and more specifically, philosophies of anti-blackness, are at the root of the types of state-sanctioned violence that results in the disproportionate shooting deaths of unarmed black people by police, like Walter Scott in North Charleston, and the killing of the nine black victims at Emanuel AME.
The Confederate flag is no more violent than the racist ideology that gives the flag its symbolic power. 
Indeed, South Carolina is beset by problems that a flag's removal cannot correct. And if we celebrate politicos who view their stand against the flag as an aim more noble than the actual work of creating policies that undo racial inequity, we are all to blame. Symbolic victory is cheap if it is not matched by material transformation. And South Carolina has much to change. 
A startling 64% of the 21,904 incarcerated persons housed in the South Carolina Department of Correction as of June 2014 were black. And in Charleston County specifically — the county where Emanuel AME is located — 1,234 black men were incarcerated, compared to 269 white men, according to the South Carolina Department of Corrections. These statistics are even more shocking when considering that white people make up 68.3% of the total population in South Carolina and black people make up just 27.9%, according to the U.S. Census 2013 estimates.
South Carolina is also one of several states with controversial voter ID laws. In fact, Haley supported the ratification of a law requiring photo identification, despite pushback from the NAACP based on the fact that such laws may inhibit the voting capacities of black Americans. During the law signing ceremony in 2011, Haley stated, "If you can show a picture to buy Sudafed, if you can show a picture to get on an airplane, you should be able to show a picture ID to (vote)," according to the State.
Thus, though Haley may have waxed poetic about her support of the removal of the Confederate flag, she has supported legislation in the past that contributes to the inequitable treatment of black South Carolinians. And we should not accept one symbolic act as a penultimate victory of racial justice if politicians fail to address real-time material conditions of racial inequity, like the over-policing and hyper criminalization of black Americans.
South Carolina's minor triumph should be cautiously celebrated, but black people in South Carolina and beyond deserve more than perfunctory, symbolic responses to traumatizing black death. The nine victims killed by a person fueled by white racial supremacist thought deserve more as well. Should the flag come down while poverty and incarceration rates of black people in South Carolina go up, its removal will remain little more than a hollow act.