Meet the Trans Women of Color Who Helped Put Stonewall on the Map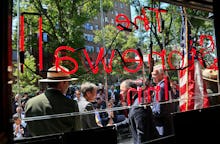 Wednesday was a big day in LGBT history: New York City added the Stonewall Inn to its list of citywide landmarks.
Members of the New York City Landmarks Preservation Commission unanimously decided this week to give some residents another reason to celebrate Pride this month. "The Stonewall Inn is a rarity — a tipping point in history where we know, with absolute clarity, that everything changed," Manhattan Borough President Gale A. Brewer said in a statement, according to BuzzFeed.
Back in the 1960s, the Stonewall Inn was the one of the few bars in Manhattan where people of the same sex could dance with each other without police harassment, which was only protected through alleged Mafia ties. On June 28, 1969, the bar's patrons clashed with police officers, in a raid that would have otherwise resulted in arrests and public shaming. However, this time the patrons fought back, setting off what we now know as the modern LGBT movement, including the tradition of LGBT Pride marches. Two often-forgotten people who made an impact that night were transgender women of color: Marsha P. Johnson and Sylvia Rivera.
Marsha P. Johnson
While the raid and the riot that followed went down in history, Rivera and Johnson's contributions related to the uprising didn't make much news. In fact, as iconic as Stonewall was to the gay liberation struggle that blossomed in the 1970s, it also became a symbol of a largely white, male movement that relegated people of color and women to its margins.
Johnson was a patron at the bar who "really started it" on the night of the riots, according to one witness in David Carter's 2004 book Stonewall: The Riots That Sparked the Gay Revolution. Originally from New Jersey, Johnson moved to the West Village in 1967 to escape the bigotry she had faced growing up across the river. She went to Stonewall that night to celebrate her 25th birthday, reportedly becoming part of that initial moment of resistance to spark the landmark rebellion, according to the documentary Pay It No Mind: The Life and Times of Marsha P. Johnson. 
During the 1980s AIDS epidemic that ravaged the gay community, Johnson became a prominent activist with the AIDS Coalition to Unleash Power, which did things like demonstrate on Wall Street against the exorbitant prices of experimental AIDS drugs. Johnson died in 1992 at age 48 under mysterious circumstances: Her body was found floating in the Hudson River. The case remains unsolved. 
Sylvia Rivera
Rivera was a 17-year-old Puerto Rican drag queen on the night of the riot. According to one biography, Rivera was in the crowd that gathered outside of the bar as anger in the West Village neighborhood swelled. "I'm not missing a minute of this," she yelled. "It's the revolution!" She's cited as one of the first bystanders to throw a bottle, a big deal given the power dynamics of the situation with police. Talking about the riots years later in Carter's book, Rivera remembered, "This was started by the street queens of that era, which I was part of, Marsha P. Johnson and many others that are not here."
After Stonewall, Rivera became an outspoken activist who rallied against racism, sexual violence and, after she began identifying as a woman, transphobia. In a 1973 Christopher Street Liberation Day Rally, Rivera, a sexual assault survivor, spoke about the complacency she saw in the LGBT community after gay, lesbian and transgender people were arrested, thrown in jail for their activism and assaulted by male inmates in the years after the Stonewall Rebellion. "Do you all do anything for them?" she demanded of the crowd at a 1973 rally in New York City. "No! You all tell me to go and hide my tail between my legs. I will not put up with this shit!"
Rivera and Johnson co-founded the Street Transvestite Action Revolutionaries, a group that worked with homeless drag queens and transgender women of color in New York City. She died in 2002 at the age of 50.
Decades later, transgender people have reached what Time has deemed a "tipping point" in visibility and activism, largely led by countless transgender women of color, most visibly actress Laverne Cox and media personality Janet Mock.
While we celebrate the history of Stonewall, let's also not forget the incredible women who helped make it happen.