17 Photos Reveal Why LGBTQ People of Color of Are #NotTooProudToFight During Pride Month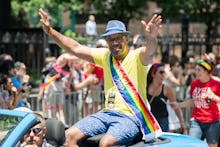 On June 28, 1969, a series of skirmishes began at the Stonewall Inn — a popular gay bar in Manhattan's Greenwich Village — when patrons were confronted and harassed by police officers during a 2 a.m. bar raid. 
After officers arrested and "manhandled" some patrons for disorderly conduct, onlookers decided to fight back. Thirteen people were arrested that morning, but the uprising continued for several days, during which people "smashed windows," "uprooted parking meters" and "frightened policemen." 
The LGBTQ liberation movement in the United States was birthed out of struggle, not merriment. And despite the popularity of people like Harvey Milk, who have been lauded as iconic gay figures, it was not a movement catalyzed by white gay men alone; cisgender and transgender women fought for liberation, too. Transgender women of color in particular played a prominent role, especially during the Stonewall Uprising. Indeed, among the brave individuals who refused to be bullied by police that first night at Stonewall were two notable trans women of color: Marsha P. Johnson and Sylvia Rivera.
If LGBTQ people have reason to be proud today, it is because of the radical responses of the tenacious freedom fighters, black and brown folk among them, who refused to be mistreated and shamed by the state or society. Yet contemporary Pride celebrations often overlook the radical starting place of the queer and trans struggle. These events also tend to be largely organized around white LGBTQ people. 
Given this reality, Mic asked LGBTQ people of color to tell us who they are thinking about and fighting for during this Pride season. The hashtag adorning each photo, #NotTooProudToFight, is meant to reframe the common understanding of LGBTQ Pride month from a moment only of celebration to one committed to the fight for racial, gender, social and economic justice.
We fight for women, especially trans women and women of color.
The LGBTQ movement is not lead by nor concerned with only the needs of white men. Though popular depictions of the movement may lead some to think that women have had secondary roles in queer and trans liberation work, women, especially trans women of color, have been key figures in this movement, and helped achieve collective liberation for LGBTQ people.
We fight for people of color.
Because of the invisibility of black and brown people in many Pride celebrations, there now exist multiple Pride events in most locations in the U.S. Black and brown people desire spaces where their lives and issues are centralized, rather than pushed to the margins. 
We fight against police abuse.
Police abuse also disproportionately impacts black people, including and often especially those who are queer and trans. Black people who are shot by police are twice as likely as whites to be unarmed at the time, and black people continue to be over-policed and criminalized by our justice system, as evidenced by the fact that they make up 1 million of the 2.3 million people incarcerated in U.S. correctional facilities. 
Black LGBTQ people are not exempt from these structural impediments. As Pride marches and celebrations are hosted throughout the country to much fanfare, black people will also be taking to the streets to protest the very form of state violence that sparked the Stonewall uprising. 
We fight to remember victims of violence.
This Pride month is also one of outrage and sadness for those mourning the tragic deaths of nine parishioners of the Emanuel African Methodist Episcopal Church in Charleston, South Carolina, who were fatally shot by a white racial supremacist on June 17.
We fight for LGBTQ immigrants and undocumented communities.
It is also a time when advocates are pushing the state to stop detaining and abusing undocumented LGBTQ people. Jennicet Gutierrez, for example, was escorted from the White House Pride Celebration on June 25 because she interrupted President Barack Obama's address to the LGBTQ community.
Gutierrez wrote in the Washington Blade following the event, "The community takes great pride in celebrating our diversity and the progress we have made throughout the years. However, for the immigrant LGBTQ community, progress has not been fully realized because of the continuous discrimination and violence we face in our daily lives."
We fight for the love of our communities.
The popular and myopic image of Pride month is indicative that narratives of LGBTQ progress and struggle function as a tale of two Prides: a Pride story that ostensibly centers on the lives of white, cisgender gay men and lesbians, and another that focuses on everyone else. That is why the notion of individual and collective love is necessary for black and brown LGBTQ people; it is the key to survival and liberation in the face of frequent invisibility and degradation. 
LGBTQ people of color must fight against the homophobia, biphobia and transphobia so often hurled their way, as well as the racist hostility they may face within the rainbow communities of their LGBTQ peers. We can't be too proud when so many shameful obstacles to liberation remain in this country. This month is the perfect time to remember our black and brown forebears as examples of what it really means to be LGBTQ: proud and unwavering fighters for justice.
Tell us what you are fighting for this Pride month. Take a selfie, tweet it, Instagram it, Facebook it. Share why you are #NotTooProudToFight.