Marriage Equality Is Great, But Jobs Are Even Better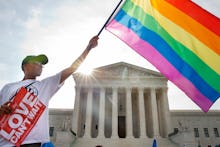 The U.S. Supreme Court issued its highly anticipated ruling on same-sex marriage on Friday, deciding 5-4 that same-sex couples have the 14th Amendment right to have their marriage recognized by their state. 
The decision is a historic exclamation point to a sentence that's taken decades to write. Even though the first same-sex couple technically wed back in the 1970s, public opinion has only recently turned in favor of such unions. Once it did, political change wasn't far behind.
But while the United States has made significant strides in recent years on marriage equality, we haven't moved as quickly to protecting the economic livelihoods of LGBT people. 
"We need to continue to have conversations about the reality of people's lives beyond marriage," Stacey Long Simmons, director of public policy and government affairs at the National LGBTQ Taskforce, told Mic. "To the extent that this comes up at home, happy hours, water coolers, people can use the opportunities to pivot from elation over the marriage decision to lift up the fact that there's so much more that we can do."
In fact, once marriage equality laws began to spread in the last few years, some people in states without employment protections then had to fight to keep their jobs. For example, Lonnie Billiard, 68, was a substitute teacher in Charlotte, North Carolina, who lost his job at a Catholic high school after announcing plans to marry his partner in 2014.
Simmons points to the laws that have been passed in recent years to protect the lives of LGBT Americans. President Barack Obama signed the Matthew Shepard and James Byrd Jr. Hate Crimes Prevention Act into law in 2009 to protect victims of violent crimes who are targeted for their real or perceived gender identity or sexual orientation. Then there's the Violence Against Women Act, which was reauthorized in 2014 with explicit language to protect LGBT people from gender-based violence.
Still, there are currently no federal laws to protect LGBT people from housing and work discrimination. Only a handful of states have such legislation on the books.
Despite the widely held perception that LGBT people generally, and gay men specifically, live outsized lives of opulence, LGBT people are actually more likely to be poor. In fact, some LGBT communities are actually more susceptible to poverty than their straight counterparts. That's particularly the case for potential workers who are black and transgender: In one national survey, 34% reported having an income of less than $10,000 per year. 
Simmons, the policy expert, suspects that the national attention given to marriage equality will inevitably lift up issues of economic inequality. "We need to have explicit protections on the basis of sexual orientation and gender identity, because the more stories about marriage that roll out, the more likely people will show up to a place where they're terminated from their job because their marital bliss turns into standing in the unemployment line."