This Indian-American Comedian Turned Bobby Jindal Into the Internet's Biggest Punchline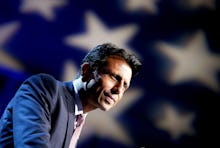 Comedian Hari Kondabolu doesn't like Bobby Jindal. This is absolutely no secret to anyone who's followed Kondabolu's politically charged work. He uses his comedy to talk about the intricacies of race in America — a topic that Jindal has tried hard to distance himself from. Kondabolu recently brought his critically engaging brand of comedy to The Late Show With David Letterman and Conan, and this clip from his latest project, "Waiting for 2042" — a nod to the year when demographers expect people of color to outnumber whites — pretty much sums up his comedic approach:
But Kondabolu holds a special animus for Bobby Jindal, the Republican Louisiana governor who announced his candidacy for president last week. "I think he's disingenuous," Kondabolu told Mic. "You can say that about all politicians, but there's something about how he uses his story about being the son of Indian immigrants and then at the same time talks about how we're all Americans and should get rid of hyphenated identities [that bothers me]."
In his official announcement, Jindal appeared to distance himself from his Indian roots. "I'm done with all this talk about hyphenated Americans. We are not Indian-Americans, Irish-Americans, African-Americans, rich Americans, or poor Americans — we are all Americans."
That didn't sit well with Kondabolu and many other Indian-Americans who were watching. The comment showed that Jindal's biggest problem in this presidential bid is that he has zero credibility among one of the fastest growing racial demographics in the country.
Soon, the hashtag took off and others joined:
"We're a generation that doesn't want [Jindal] to represent what it means to be Indian-American," Kondabolu told Mic. "There's something wonderful about celebrating our culture and who we are and where we came from, and white people have lost that at times because they chose whiteness over other [ethnic] identities they had."