Little League Phenom Mo'ne Davis Drafted by America's Most Storied Basketball Team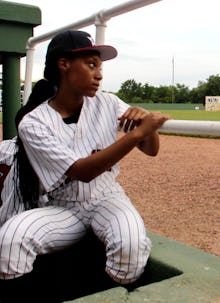 While this week's NBA draft came and went, there was another draft that flew a bit more under the radar. The Harlem Globetrotters, one of America's oldest and most storied basketball franchises, drafted 14-year-old Little League phenom Mo'ne Davis:
Davis has already shown off her skills on the court during this year's NBA All-Star Game, where she broke the ankles of none other than perennial celebrity all-star Kevin Hart:
Davis wasn't the only female athlete drafted to the team: U.S. women's national soccer team player and fan favorite Alex Morgan was also brought on board. Sweet Lou Dunbar, the Globetrotters' director of player personnel, said in a statement that the team looks for athletes across different sports who "provide service, smiles and sportsmanship globally."