One Group of Same-Sex Couples Has So Much to Gain From the Supreme Court Ruling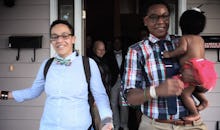 The American South is home to many ironies, but perhaps none as intriguing as those relating to same-sex unions. Before Friday's historic Supreme Court ruling, same-sex marriage was almost universally banned in Southern states, a reality that painted a bleak picture for LGBT Americans who live there. 
But then there's also this: There are more gay and lesbian parents raising children in the South than anywhere else in the country, according to an analysis of U.S. Census data by the Williams Institute, an LGBT think tank based at the University of California, Los Angeles. For example, more than 20% of same-sex couples are raising children in Alabama, Arkansas and Mississippi, and of those couples, blacks and Latinos are more than twice as likely as white parents to be raising children.
These are facts that help reshape the narrative of same-sex marriage from an individual's quest to legally wed whomever they please to a family's search for legal protection.
"Marriage equality just means that we would be equal," RayShawn Chandler, a black woman who lives in Georgia and traveled to Connecticut in 2013 to marry her wife, Avery, told Mic. "The goal is to love on one another, have children and share that love with our kids."
But Chandler says that she and her wife have been reluctant to start their family without legal protection in their home state of Georgia. "We don't want the state to interfere with our family," she said. For LGBT couples raising children in the South, seemingly basic things, like getting their spouse and children on their employer's health insurance or listing both parents as emergency contacts, have been out of reach. 
For Brittney Sosa and her wife Jai, who's a military drill sergeant, the legal recognition of marriage proved instrumental. Together, they're raising a 6-year-old son, Elias, from Sosa's previous relationship. The couple first lived in Georgia, where Sosa says that she wasn't eligible for the military's spousal benefits like job assistance and social activities. Luckily, Elias was still covered under his biological father's military benefits, but the couple worried that if anything happened to Sosa, Jai wouldn't be able to play a role in the boy's life. 
They then went to Connecticut to marry in 2013 before moving to South Carolina, which legalized same-sex marriage in November and where, Sosa said, "the doors opened."
"I took Excel classes to put more things on resume," Sosa told Mic. "There really is a divide of things if you're not recognized as a legal couple. When I was in Georgia, I couldn't participate in groups and clubs for spouses. I felt so alone."
For many similar couples in the South, Friday's ruling isn't just a validation of their rights, but an end to their suffering.