What the Nina Simone Netflix Documentary Can Teach Us About Today's Young Black Artists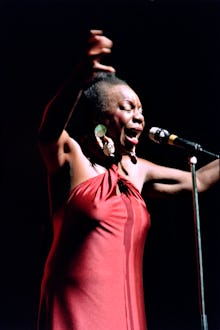 Despite her infamous plea not to be misunderstood, Nina Simone's legacy as one of the United States' foremost black artists remains up for debate. A new documentary now on Netflix, What Happened, Miss Simone? attempts to assemble the pieces of a woman whose scattered identities — young prodigy, transcendent artist, fervent activist, unreliable mother — have yet to be reconciled more than a decade after her death in 2003.
Director Liz Garbus uses archival interviews with Simone, along with one-on-one sit-downs with those closest to the singer (including her abusive ex-husband, Andrew Stroud) and her own journal entries, to reconstruct an honest, heartbreaking and mesmerizing look at how Nina Simone made art in America, and how America made, and then broke, Nina Simone.
Nina's story still resonates: Simone's history is an instructive look at how the United States treats young black female artists, even today. From Lauryn Hill to Azealia Banks, little has changed since Simone's politics and so-called "difficulty" cast her outside of the American mainstream. Compare how they're viewed versus Britney Spears, whose 2007 mental health crisis is now just another Internet meme. Even black male artists like Kanye West are given more space — albeit just a tiny fraction more — to be controversial. Simone wasn't, nor are Hill and Banks now, given the space to be imperfect. Black female artists seldom are. Instead, they must embody perfection, the pop culture equivalent to the mythical black superwoman that Michele Wallace wrote about three and a half decades ago. 
Who is she? Simone was born Eunice Waymon to a poor black family in segregated North Carolina in the middle of the Great Depression. At 4, she began playing piano in her mother's church and soon earned a reputation as a prodigal talent. She started taking piano lessons from a local white teacher and learned the intricacies of classical music, including her favorite composer, Bach. Her childhood was fueled by one mission: become the country's first black classical pianist. But even after studying for a year at Julliard as a teenager, she was denied admission to the Curtis Institute of Music in Philadelphia, then the most prestigious music school in the country. Later, she learned that she was denied admittance because she was black.
Her dream of becoming a classical pianist dashed, Simone started performing in Atlantic City to make money to help support her family, which had settled in Philadelphia. But there was one problem: her mother, a devout Methodist minister, had no tolerance for what she called "the devil's music." So she began going by "Nina," an anglicized version the Spanish word for little girl, which her then-boyfriend called her, and "Simone," after the French actress Simone Signoret. Nina Simone was born and, at the behest of a nightclub owner, began singing and developing her signature sound.
"People think that when she went out on stage, she became Nina Simone. My mother was Nina Simone 24-7," her daughter, Lisa Simone Kelly, says in the film. "And that's where it became a problem."
Simone's talent was perhaps overshadowed by her reputation as a "difficult" artist. She admonished audiences when they interrupted her performances, for instance. But it's her work with the Civil Rights Movement, with ballads like "Mississippi, Goddam," that alienated her from some white audiences and the mainstream musical establishment. "I wouldn't change being part of the civil rights movement," she says in the film. "But some of the songs I sang have hurt my career."
The Netflix documentary also shows, in heart-wrenching detail, how Simone's lonely childhood, physically abusive marriage and struggle with bipolar disorder further marked her decline. "I'm sorry that I didn't become the world's first classic pianist," she says in tears during one interview from the 1980s. "I think I would've been happier. I'm not very happy now."
In an incisive critique of the documentary at IndieWire's Shadow and Act blog, Tanya Steele takes issue with the documentary's narrative of casting Simone as a problematic figure. "When I look at Nina Simone, I see what is right with her, and what was wrong with the culture that surrounded her."
Simone is symbolic of how America eats its most fragile black creators. This has especially been true for black women whose pain creates their art. 
A generation after Nina Simone came Lauryn Hill, who rapped, sang and acted her way to critically acclaimed success at the age of 23. Then, her voice began to fail, she missed shows, denounced stardom and became infamous for her public meltdowns. Angry fans demanded their money back and described her shows as "the worst concert[s] ever." And Hill, whose songs were about female empowerment and self-love, became a poster child for the dysfunctional black artist. 
Many of her most loyal fans thought it was an unfair categorization. It's a point that the rapper Talib Kweli made last year in a stirring defense of Hill against critics. "When you pay for a Lauryn Hill concert you are not paying for her to do what you want, you are paying for her to do what she wants," he wrote on Medium. "She is not an iPod nor is she a trained monkey."
Even Hill has pushed back against the criticism. "I spent my entire 20s sacrificing my life to give you love," she told the New York Times after fans complained about her tardiness to a show. "So when I hear people complain, I don't know what to tell you." She added, "I personally know I'm worth the wait." 
America is content to listen to the struggles of black women, live, in-concert, on their way to work or at their favorite summer outdoor concert. But we're not ready to deal with the broken black women those songs leave behind. Black pain is not a consumer product, but it's treated as such. It's fitting, then, that Hill's next album will be a collection of Nina Simone cover songs, titled Nina Revisited.
"I think she stands on Nina's shoulders," Garbus said of Hill in an interview with Jezebel. "She's worthy of the stage of Nina."
A decade after Simone's death, another black artist seems to be facing similarly loaded scrutiny, and thanks to social media, the scrutiny is truly in real time. Azealia Banks is the latest example of a young black female artist who stands at the mouth of America's insatiable thirst for black pain. Banks begged to be let go from her major label deal, putting race at the the forefront of her mistreatment by the industry:
She's irreverent and unapologetic, as seen in her one-woman crusade against Iggy Azalea, who Banks dubbed "Igloo Australia" for appropriating black music and style. In 2014, Banks gave an emotional interview to New York City radio station Hot 97, in which she spoke directly to the legacy of white artists stealing black styles and calling them their own. "I feel like in this country, whenever it comes to our things, like black issues or black politics or black music or whatever, there's always this undercurrent of kinda like a 'fuck you,'" Banks said. "There's always a 'Fuck y'all niggas. Y'all don't really own shit. Y'all don't have shit.'"
At first, the interview drew plenty of negative attention. Then Iggy responded with a tone-deaf tweet about hip-hop being an apolitical platform, which drew a long overdue history lesson from hip-hop luminaries like Q-Tip. Still, it was Banks' initial comments that pushed everything into motion. And it wasn't the first time that she had called out the industry. In her quest to be let out of her big label deal, Banks tweeted in January 2014: "I'm tired of having to consult a group of old white guys about my black girl craft. They don't know what they're listening for or to." (That tweet has since been deleted.)
Perhaps instead of asking "What happened, Miss Simone?" we should ask, "What did you do, America?"