Donald Trump Just Got Served by This Mexican-American Beauty Queen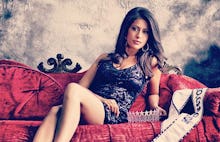 This is Marybel González:
She was crowned Miss Colorado USA back in 2012:
And was a Top 10 runner-up in the Miss USA pageant that year:
Which means she shared a stage with Donald Trump, a partial owner of the Miss Universe franchise.
González, who grew up in Denver as the daughter of Mexican immigrants, is also proudly Mexican. 
That's why she wasn't particularly happy when Trump recently said racist things about Mexican immigrants:
González is many things: a beauty queen, a horse enthusiast, a broadcast journalist. But she's not a rapist, a point that she made clear in a passionate message on Instagram on Thursday after Univision announced that it would no longer air Trump's Miss Universe pageant. "Given both historic and recent tragic events, it is imperative that we recognize the adverse and dangerous effects that racially charged and discriminatory words can have," González wrote in an email to Mic. "The letter I addressed to Donald Trump was intended to rectify his offensive and inaccurate comments and to serve as a stance against racism."
Specifically, González said she did not want to condemn the entire Miss USA or Miss Universe organization, but rather, make it clear she does not condone "racism and cultural exclusion." She said that while she was disappointed Univision announced it would not air the Miss USA pageant because of Trump's statement, she said she was also disappointed in Trump's derogatory words. 
You say that Mexicans who come to the USA are all rapists. However, your argument is not only unsubstantiated but also completely hypocritical. See, a rapist is "one who abuses something or treats something improperly." A rapist is a violator, and exploiter to be more precise. When you singled out a community and ignorantly generalized a population for the benefit of your campaign, you committed the worst exploitation. When you belittled the people of a country for the sake of a vote or an applause you acted in an unjustly manner to benefit your needs. Further, when you now negate other girls the opportunity to be present and heard in a public forum you are blatantly robbing them... if I am a rapist by the simple fact of being Mexican, then what do these actions speak of you?
So far, it doesn't look like Trump's gotten the message. He's since doubled down on his anti-immigrant comments, telling CNN's Erin Burnett, "It's not just Mexico. ... We have this open border, and it's like water pouring through." On Monday, NBCUniversal cut ties with Trump, stating it found his statement derogatory, but Trump immediately lashed back, calling NBC "weak and foolish."
NBC's decision to dump Trump speaks to the broader harm of Trump's message, which González summed up on Instagram: "Your actions will deprive other girls like me the opportunity to represent a minority publicly, to give us a platform in which we can share our rich culture and background with the world. I am sad that other young Latina girls who are @Univision viewers will not have the chance to see another girl on TV that looks like them, one that they can relate to and aspire to be."