Laverne Cox and Janet Mock Have This Whole Sisterhood Thing on Lock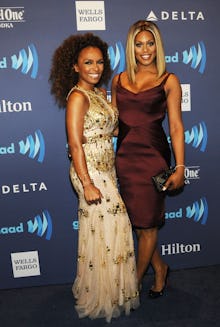 This is Laverne Cox:
This is Janet Mock:
They're both powerhouses:
And friends.
They honor each other's work:
Have tons of fun while doing it:
Always manage to look flawless:
And aren't afraid to keep it real:
They also never lose sight of the fact that #TransIsBeautiful:
And sisterhood is too.
Why their friendship matters: Too often, women are pitted against one another in friendships, jobs and activism. Mock has written about the power of friendships in her memoir and on her blog, advising others who feel lonely to seek just one person to lean on (for her, it was her childhood friend Wendi). 
And while Cox plays Litchfield Prison's stylist and confidant, Sophia on Orange Is the New Black, she shows her solidarity with other trans women like CeCe McDonald, a homeless transgender woman who was jailed for killing her attacker, as well as showing support to Caitlyn Jenner in her coming-out process. But together, Mock and Cox are two pioneering trans women of color who prove we can be allies to one another across the board. Slay, y'all. Slay.