A True Legend Is Leaving "Sesame Street" — And These 5 Moments Show Why We're Heartbroken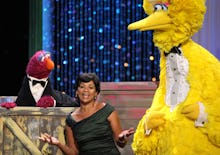 After 44 years on America's most beloved children's television show, Maria is saying goodbye to Sesame Street.
The 65-year-old actress announced her retirement this week during a speech at the American Library Association Annual Conference, CNN reports.
Maria, whose real name is Sonia Manzano, has literally spent her entire career with the show, becoming one of the most important Latina writers and actresses in children's television in the process.
Manzano grew up the child of Puerto Rican immigrants in New York City. She studied acting at the city's High School for Performing Arts, before moving onto Carnegie Mellon University, according to her bio. In 1971, when she as only 19, Manzano joined the Sesame Street cast, and became a series regular in 1974. She eventually became a writer with the show, earning her 15 Emmy Awards over the course of her career.
As an actress and writer, Manzano has played an instrumental role in the show's pioneering approach to teaching kids about race. Whether it's loving your hair or talking about parental incarceration, the show has helped its young audience make sense of the complex world in which they live. 
It's hard to pick just a handful of moments to celebrate from such a remarkable career, but here are five times when Manzano's Maria totally stole our hearts.
1. When she used running analogies to teach us how to add and subtract:
3. When she brought magic to the Spanish-language greeting "Hola!"
4. When Big Bird talked her into marrying Luis
This was a storyline she wrote into the show during the 1980s, based on her own personal life at the time. "I guess the most exciting timed for me on Sesame Street were the '80s, when I got married and had a baby on the show," she recalled in a recent interview. "Maria's life was mirroring my life because I did fall in love in reality and I did get married. And I was gonna have baby ... also, then we wouldn't have to stop taping or anything."
5.  When she and Rosita taught us how to say goodbye.
In a segment called the "Spanish Word of the Day," Manzano narrated language skills 101 for young learners.
Generations of kids grew up with Maria: More than anything, Manzano's work was proof that diversity on children's programming matters. Thanks in part to Manzano's work, children's programming has become some of the most diverse on television, according to Jezebel. But nearly five decades after Manzano joined Sesame Street, we're still looking for diverse characters for kids to look up to in other parts of our culture. For instance, only 6% of children's books featured diverse characters in 2012, and the lack of diverse characters has been proven to contribute to low self-esteem in underrepresented groups. 
"Children are affected when they don't see themselves on TV," concluded a 2012 study in Communication Research, which was reported on by media consumer watchdog Racebending. As Nicole Martins, an assistant professor of telecommunications at the Indiana University College of Arts and Science, pointed out in a press release, white children — especially white male children — see white male characters with "prestigious occupations, high education, glamorous houses, a beautiful wife, with very little portrayals of how hard you worked to get there."
Meanwhile, Martins said, "If you are a girl or a woman, what you see is that women on television are not given a variety of roles. The roles that they see are pretty simplistic; they're almost always one-dimensional and focused on the success they have because of how they look, not what they do or what they think or how they got there. Young black boys are getting the opposite message: that there is not lots of good things that you can aspire to. If we think about those kinds of messages, that's what's responsible for the impact."
Which is why Manzano's legacy is so important to young viewers of all races and genders, of multiple generations. When discussing how she'd like to be remembered, Manzano said, "When I was a kid there was a lot of chaos going on around me and I did find a certain comfort in television." She continued, "I hope that I can be remembered as the person who created a moment of safety for a child watching."