One Tweet Sums Up the Biggest Problem With Women's Soccer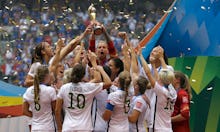 The United States Women's National Soccer team won its third World Cup on Sunday with a decisive 5-2 victory over Japan. There are plenty of heartwarming components to the victory: Carli Lloyd's record-breaking hat trick, Abby Wambach's sprint across the field to her wife after the game, ex-Canadian Sydney Leroux's win on her home turf in Vancouver. But there's one fact that will make your blood boil:
That's right: The U.S. women's soccer team — now three-time champions — earns far less than their mediocre male counterparts. Specifically, the final 16 men's national teams who played in the most recent World Cup took home between $8 million and $35 million, with the average team taking home slightly more than $10 million. Germany, which won the 2014 men's title, wound up taking home $35 million. The U.S. women's team, on the other hand, will take home $2 million, according to Business Insider. This chart spells that out:
Where do these figures come from? Salaries in professional sports are based largely on league revenue. The 2014 men's World Cup generated $4.8 billion, which, compared to $2.2 billion in expenses, meant the world's governing soccer body made a profit of $2.6 billion, according to its own accounting. A relatively small portion of that profit ($527 million) came from ticket sales, while a considerably larger chunk came from TV rights ($2.4 billion) and sponsorship deals ($1.6 billion). Those profits and expenditures didn't include the billions of dollars that the host country, Brazil, paid to build stadiums and transportation for the tournament.
The Women's World Cup generates considerably less revenue. But FIFA doesn't choose to spend its overall earnings wisely. It spent $27 million to make United Passions, a 2014 English-language feature film that dramatized FIFA's already drama-filled origins. 
It grossed $607 in the United States as of June 7.
Now that the Women's World Cup is over, the U.S. National Team players are back to their grind, mostly involved with the fairly new National Women's Soccer League, which boasts annual salaries ranging from $6,000 to $30,000.
It doesn't stop there: Soccer isn't the only sport in which women are grossly underpaid. The WNBA, which has been around for nearly two decades, pays its rookies $35,000. Even veteran players rarely make six figures, which is why most professional players compete overseas most of the year. Earlier this year, when 10-year veteran superstar Diana Taurasi decided to forgo the 2015 WNBA season at the behest of her much higher-paying Russian club, she sparked a league-wide panic that female players would start abandoning the WNBA altogether. That hasn't happened quite yet, but Taurasi's decision has led the league to discuss its pay scale and revenue sources more openly. 
"I really didn't do it to make a stand," Taurasi told the New York Times. "It was a very personal choice. My agent said it would be financially irresponsible not to do it."
June 7, 2015, 8:10 a.m.: This article has been updated to clarify an earnings disparity.