These Black Artists Made T-Shirts to Remember Women Lost to Violence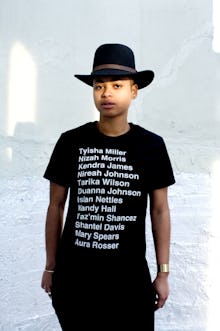 The growing movement against police and hate crimes often has a huge blind spot: violence aimed at black women. Black women face an outsize threat of violence over the course of their lifetimes: They make up nearly a third of intimate partner homicides in the United States and have also been victims of police aggression. Transgender women of color were victims in half of hate violence homicides in 2014, according to the national coalition of Anti-Violence Programs. Wherever you look, a startling number of violence victims are black women. 
Brooklyn-based artists Tatyana Fazlalizadeh and King Texas decided to team up and get people to do something simple and, in their eyes, radical: Say their names. The two developed a new project called "Kinship," which includes T-shirts with the names of 12 black women who have been killed by state, hate or sexual violence.
Provoking thought and conversation: Texas is a Brooklyn-born and -based transgender photographer, and Fazlalizadeh is a visual artist whose street art project "Stop Telling Women to Smile" became an international sensation. 
The T-shirt project is "about shifting the culture of violence against, sexualization of, and the erasing of cis and trans people of color," according to the duo's website.
"We feel like black women are left out of the conversation when we're talking about violence against black poeple in general," Fazlalizadeh told Mic. "We see a lot of state violence, sexual violence; we're experiencing violence at the hands of men in authority and men in a sexual nature. It's a lot of racism, sexism, transphobia. We wanna talk about black women and trans women and put the focus on them for once."
Fazlalizadeh said that both artists did extensive research on who to include and were left with the stories of women whose lives and deaths touched them the most. "We want other people to research and understand what this happened to these women and that it's not okay," she said. "[This] needs to be talked about it."
The shirts include, among others, the names of Tyisha Miller, a 19-year-old who was killed by police in Riverside, California, in 1998; Islan Nettles, a 21-year-old trans woman who was beaten to death in Harlem, New York, in 2013; and Mary Spears, a 27-year-old who was shot and killed after refusing to give a man her phone number. 
Proceeds from the shirts will be donated to the Trans Women of Color Collective, a national organizing group.